What is pulsed light hair removal?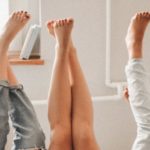 Are you more pulsed light hair removal or laser hair removal?
Shaving, waxing, depilatory creams… we've been fighting hair on our bodies for a while now. Luckily, cutting edge technologies like pulsed light hair removal can finally help us attain definitive results. Here is everything you have to know about this new technology.
Advertisements
To eliminate hair, pulsed light machines discharge a flash that destroys the hair. First, the melanin contained in hairs captures the pulsed light. Then, heat from the flash travels up to the hair bulb and numbs it. The darker the hair, the more conclusive are the results. This method is also less powerful than the laser used by professionals during hair removal consultation, which allows us to use it home.
Advertisements
2

Pulsed light advantages
Advertisements
Pulsed light eliminates up to 80% of our hair. It is, therefore, an interesting choice for people looking for a sustainable result. A difference can be seen from the second session, although most hair will be numb from the fifth session. Since light is captured by the pigment associated with hair coloration, this technique is more effective on people who are fair-skinned with dark hair.
Another advantage is that this method is way less painful than waxing. The hair will also take longer and longer to come back after each session. If you have sensitive skin, however, you may feel a tingling or burning sensation after each session, which you can numb or prevent by using an analgesic cream
Advertisements
Advertisements
To get to the point where you have no hair, you have to be patient. Even if results vary from one zone to another, you need at least 5 to 10 sessions to remove hair. You also really do have to repeat this treatment as long as you need in order to get definitive results because the light intensity is limited. Speaking of limitations, you can't use this technique if your skin is dark—it will burn—or if you're blond or red-haired—your hair is too low in melanin.
Sure, pulsed light hair removal is safer than laser, but it still has contraindications. For instance, this approach is inadvisable for pregnant or breastfeeding women as well as for people taking photosensitizing medication. We also have to avoid being under the sun 24 hours before treatment. More importantly, moles have to be covered during light pulse hair removal or they capture light, which could increase the risk of skin cancer.
It should be noted that winter is the perfect season to use this hair removal method. We have to avoid the sun for two weeks or we risk developing pigment spots because our skin is more sensitive after treatment.
Finally, it is strongly advised to wear protective eyewear since the light used in this treatment can permanently damage the retina.
Advertisements
Advertisements
If you are patient, pulsed light can be effective, but its disadvantages are quite numerous. For a safer intervention, we suggest laser hair removal with a professional. This person is, after all, specifically trained to give you the best treatment. If you don't want to go for laser, that's ok too. Traditional methods like shaving and waxing are traditional for a reason: they do work, although for a shorter period of time.
The hair removal world is quite vast. To make an intelligent choice, evaluate your tolerance to pain, your budget and your desire to live hair free quickly and for good. There are so many ways, you can for sure find one that suits your needs.
---
Cover photo: Katarzyna Grabowska | Unsplash
Advertisements