Six easy homemade face masks recipes to take care of your skin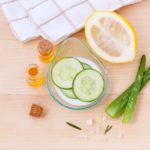 Advertisement - Continue reading below
Don't you think face masks are so relaxing? Of course, we can go to a spa to get them or simply buy them, but we can also make face masks ourselves.
There are some advantages to DIY face masks. First of all, we know exactly what they contain. We can, therefore, have more control over what we apply on our face, which can be an enormous advantage, especially for vegans. Second, this option is more often than not cheaper than face masks available in stores.
\n
In the end, we can also feel even prouder of ourselves for having taken this self-care time, which we will have organized from A to Z.
Advertisement - Continue reading below
Advertisement