Kombucha on a keto diet: sip it or skip it?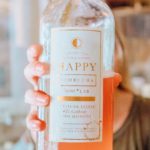 Advertisement - Continue reading below
To kombucha or not to kombucha on a keto diet?
All in all, following a keto diet is simple: Keep your carbs low and your fat high. Though some ingredients such as sugar are a no-go and should be kept away from your high-fat pantry, the lifestyle does not have to be restrictive. Even dessert isn't off-limits! Yet, in the case of certain foods—tasty, sparkly gut-friendly concoctions, for instance—the answer isn't that obvious. If you picked up kombucha during college to help you fight hung overs and be all ears in that 8 am mandatory class or if Jenna from yoga keeps venting you the benefits of this Whole Foods staple and you are tempted to give it a try, chances are that you are wondering if such a habit aligns with your low carb lifestyle. Will fermented tea kick you out of ketosis? Here is what you need to know about drinking kombucha on a keto diet.
Advertisement - Continue reading below
Advertisement