10 keto dessert recipe ideas
Have your keto cake and eat it too with those delicious low carb dessert recipe ideas even people eating a regular diet will enjoy.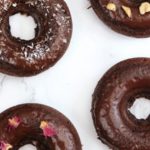 Low carb does not equal to no dessert. Of course, the keto diet considerably restricts your options, but it does not mean you can't enjoy some special delicacies. There are multiple ways to satisfy your sweet tooth while remaining in ketosis. All it takes is a little imagination and even less time spent in the kitchen. Whether you are looking for a quick fix or a beautiful cake for a special occasion, we have what you need. Here are 10 delicious and ingenious recipes to have your keto cake and eat it too.
Advertisements
Carrot Cake
Got a special occasion? Celebrate with cake without getting out of ketosis with this beautiful and moist carrot cake. Sugar-free, gluten-free, low carb but no less delicious, it is the perfect way to make merry and remain healthy. Soft, sweet and layered with a rich and creamy cream cheese frosting, the recipe will please even non-keto guests. Even better: it's super easy to make.
Advertisements
Chocolate Peanut Butter Whoopie Pies
Forget about chocolate peanut butter cups, it's all about whoopie pies. This perfect flavour duo is best enjoyed in soft, chewy and creamy form. Make it keto and you have found the ultimate go-to when in need of a serious treat. Carolyn Ketchum's take on this classic American-born dessert is truly delicious and enjoy this perfect new version of the whoopie pie while reducing your carb intake.
Advertisements
Blackberry Popsicles
Few things are more refreshing than a sweet, creamy and fruity pop. Best enjoyed sitting on the front porch on a sunny and hot summer day, these blackberry popsicles are not only delicious but also keto friendly. Low carb and sugar-free, they are extremely simple to make and require only 3 ingredients. The hardest part will be waiting for them to freeze. Find a yogurt version, a dairy-free and good-for-your-gut option of the pops to satisfy everyone's cravings.
Advertisements
Avocado Key Lime Pie
This fresh, sweet and tangy keto dessert will also please vegan, paleo, gluten-free and even raw eaters. The recipe, therefore, requires no baking and only includes whole, healthy ingredients. The extremely creamy key lime pie filling is made primarily out of avocado and the sugar-free crust contains coconut, almonds and cashews.
Chocolate Cake
You can never go wrong with chocolate. And you can never go wrong with moist, fluffy, gooey, rich and secretly healthy frosted chocolate cake. So when you're in need of something sweet, decadent and seemingly unhealthy, whip up this flourless zucchini chocolate cake. You'll get all the comfort and flavour from a regular sugar-filled dessert without all the unnecessary carbs and calories.
Cinnamon Rolls
So you went to Ikea and came back with a bunch of things you didn't need including a craving for cinnamon buns. No need to fight your desire. All you need is 30 minutes and you'll be able to get your fix without getting out of ketosis. These sexy gluten-free cinnamon rolls contain minimum carbs and a whole lot of gooey fluffy flavour.
Peanut Butter Doughnuts
Following a ketogenic diet doesn't mean you can't experiment with baking. Whip up unusual delicacies like these peanut butter doughnuts which are vegan and very low carb. This dessert even includes a delicious peanut butter glaze to make this special treat even tastier. Try topping your gluten, soy and sugar-free doughnuts with berries or even jam to make it PB and J doughnuts.
Lemon Coconut Cheesecake Squares
Ever heard of fat bombs? They are a favourite among the keto community when it comes to desserts. They are essentially sweet little bites made primarily from fatty ingredients. Unconvinced by the concept, Paramitha Ingkan created her own version in the form of high-fat and low carb lemon coconut cheesecake squares. These little treats make the perfect healthy dessert, but also a nice snack on the go. Find the recipe on her Instagram page.
Salted Caramel Chocolate Chip Cookies
Cookies are classic. They are a food category of their own. They're the ultimate everyday dessert that also doubles as a snack and sometimes even as a meal. They are best paired with dairy or non-dairy milk and complement perfectly any kind of TV show. They are, however, more often than not, filled with sugar and carbs. But not these salted caramel chocolate chip cookies. These are keto and sugar-free.
Strawberry Lemonade Cupcakes
Part muffin, part cake, these sweet bites are the keto dessert for every occasion. They can easily be sneaked into breakfast and are always a success at children's parties. This dessert fad that never went out of style can now be part of your keto diet thanks to this low carb recipe. Take these perfect-for-summer strawberry lemonade cupcakes to any garden gathering and don't feel left out.
It's easy to think of the keto diet as a very restrictive way of eating. People mistakingly imagine you can't enjoy sweet treats in order to remain in the ketogenic state. Fortunately, it is nothing but a misconception. Of course, regular pastries and sugar and carb-loaded delicacies are off limits for keto dieters, but there is also an infinite amount of delicious keto dessert and snack recipes and even fast food options to satisfy any sweet cravings.