13 of the most spectacular treehouse hotels in the world
From luxurious to exotic, these travel destinations that are like a dream come true for some. Although, if you're afraid of heights, this isn't for you.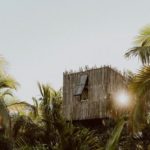 As a child, did you dream of a magical night in a tree house? Whether you are looking to fly to an exotic destination or are looking for thrills, fulfill your youthful desire and experience an enchanting stay in the heart of nature. Both luxury lovers and travellers fond of rustic simplicity will find their account among these spectacular travel destinations. Sleep with your head in the clouds in one of these 13 impressive treehouse hotels.
Advertisements
Treehouse Lodge – Perou
This heavenly facility located a few steps from the city of Iquitos in Peru has ten huts perched in trees in a protected area of the Amazon forest. Whether you are looking for an original lodge to add to your Machu Picchu excursion or simply want to discover Peru through the many activities offered by the place, these ecological homes will ensure you spend an incredible stay.
Advertisements
Lion Sands – South Africa
Nothing concludes a safari like a luxurious night under the stars in the African jungle. This extremely romantic experience is for the brave, however, as left to your own devices, you will witness lions roars, hippopotamus grunts, leopard growlings, hyena cluckings, and impala cries and other wild animals. If, on the contrary, you dream of such this kind of adventure, this tourist complex puts at your disposal three open-air facilities built in trees, two located on the Sabi Sand reserve and one in the Kruger National Park in South Africa.
Advertisements
Tree Hotel – Sweden
This hotel complex is as much for nature lovers as for architecture lovers. Located in the Harads region of Sweden, these modern homes have electricity and internet access. You can, therefore, lock yourself up there all day long in good company or enjoy the outdoor activities organized by the complex in both summer and winter. Seven unique and original perched rooms with the names of 7th Room, The Mirrorcube, The Bird's Nest, The Cabin, The Ufo, Dragonfly and The Blue Cone are available for an extraordinary stay.
Advertisements
Bangkok Tree House – Thailand
Inspired by Henry David Thoreau's Walden, this atypical, modern and trendy hotel prioritizes an ecological approach in harmony with nature. Located in a remote and peaceful location, the establishment is inaccessible by car. You must, therefore, walk, cycle or boat there. Take advantage of your stay at Bangkok Tree House to visit a Thai floating market, taste the restaurant's organic, local and seasonal cuisine and relax in an intimate outdoor shower.
Tsala Treetop Lodge – South Africa
This luxurious hotel with its Afro-baroque décor sits among the trees at the top of a mountain in the heart of the Garden Route and offers an impressive view over a very ancient native forest. The place harmonizes African heritage with Western comfort while highlighting and blending in with the surrounding nature.  Ideal for relaxation, the hotel includes a spa and some rooms have an infinite private pool. Visitors can also take part in the many activities offered to discover the region, relax or experience thrills.
Finca Bella Vista – Costa Rica
This treetop retreat is for backpackers who enjoy socializing and are not afraid to get their hands dirty. This magnificent micro village in the heart of the Costa Rican rainforest is home to a private community that values first and foremost a sustainable way of life. The place welcomes volunteers, yogis and travellers in search of encounters, relaxation in a place of rustic comfort or extraordinary adventures in the nature of southern Costa Rica.
andBeyond Lake Manyara Tree Lodge – Tanzania
This lodge offers you the ultimate luxury among elephants, lions, zebras, giraffes, buffaloes and other wild animals of Tanzania. Located in Lake Manyara National Park, this tree-lined hotel in the heart of a mahogany forest features 9 safari-style suites with outdoor showers and a suspended spa. However, the wildlife and nature around it are more impressive than the complex itself. Find nearby, among others, the hot springs of Maji Moto, lion climbers, otters, hippos and a lake with pink flamingos.
Inkaterra Reserva Amazonica Canopy Tree House – Perou

This charming cabin in the private trees is built on the highest platform of the hotel complex's facilities, about 22 metres above sea level. This intimate home can accommodate two visitors, has a shower room and even includes a butler service. A stay in this charming lodge in Peru's Amazonian forest also includes a multitude of services such as room service, à la carte excursions and a guide. However, the centre of interest of this private mansion remains the suspended footbridge, which extends half a kilometre some 30 metres above the ground. Travellers can, therefore, observe a multitude of species on their way home to the lodge.
Tongabezi Lodge – Zambia
The Tree House room in this luxurious hotel complex in Zambia wears its name well. Built from three riparian ebony trees, the open space is crossed by enormous branches of trees. The spacious lodge with its exotic decor includes a freestanding bath and has no rival in beauty except the view it offers of the Zambezi River. Moreover, the facade facing it is completely open. Certainly, wonderful sunsets have been observed from the comfort of this private balcony.
Acre Treehouse – Mexico
Both refined and bohemian, modern and rustic, this superb hotel complex, with its refined design and relaxed atmosphere, is located halfway between a private oasis and a boutique hotel. The place accommodates its visitors in charming cabins in the trees which marry wonderfully exotic chic and ecology. Travellers can enjoy the Mexican climate and relaxing moments by the pool or during an early morning yoga session before enjoying a gourmet meal at the establishment's restaurant and socializing at the bar.
La Piantata – Italy
Don't be influenced by the rural exterior and rural environment of this tree house. The two houses perched in this charming bed and breakfast in the Italian countryside are modern, comfortable and fully equipped with technology. These eco-friendly cabins offer a breathtaking view of an olive orchard with over 1,800 trees and a 12-acre lavender field. Travellers can, therefore, admire the splendour of the landscapes and the rustic character of Italy's remote regions without sacrificing their comfort.
Rabeang Pasak Chiangmai Treehouse Resort – Thailand
This charming family-owned hotel located in the heart of the forest of a small village in the province of Chiangmai in Thailand is the work of a retired architect. Initially intended only as a second home for the family, the project now includes 8 tree houses open to visitors. Propitious to a real return to nature, the houses are equipped with the bare essentials and each have their own bathroom. The facilities also have a lunch area and staff offer some options for breakfast, lunch and dinner.
Gibbon Experience – Laos
Built some 40 metres high in trees in Nam Kan National Park in Laos, these huts not only stand out for their impressive altitude, they are also connected by one of the world's largest zip line systems. The most courageous travellers can thus cross this enchanting scenery at more than 500 meters from the ground. Three types of stays in these spectacular facilities are offered which include, among others, game viewing, hiking and swimming in waterfalls.
---
Cover photo credit: acrebaja/Instagram