12 places where to eat an extraordinary ice cream in Montreal
When it starts to get hot, nothing beats a classic vanilla cone... Is this really the case? Here is where to go for an extraordinary ice cream in Montreal.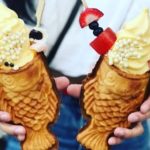 We're not even close to being tired of its traditional version but if you feel like having an extraordinary ice cream in Montreal, the city has enough options to satisfy your craving. Here are 12 places that overflow with creativity to fully satisfy your taste buds with their refreshing and original frozen desserts.
Advertisements
Pandan
Pandan is the first and only spot in Montreal that serves Thai-style 'rolled ice cream'. It is available in many different flavours and prepared by hand in front of you according to the traditional technique. You can also get a Thai-style ice cream sandwich, or pok pok, an ice cream scoop on a small round bread.
Advertisements
Hoche Glacé
Numerous ice cream parlours in Montreal offer one or a couple of options for vegans or lactose intolerant people. Hoche Glacé stands out because of its numerous kinds of vegan frozen desserts. A real paradise for vegans, this place serves soft and hard ice cream, sundaes, tornadoes, blizzards, and even frozen yogourt without milk products. With flavours like cookie dough, Oreo-raspberry, blueberry, banana-mango and matcha, those who don't drink milk products don't have to feel deprived.
Advertisements
Le P'tit Creux du Plateau
For a rich and decadent dessert, visit P'tit Creux du Plateau for a Papi Churros. This decadent version of an ice cream cone replaces the traditional cone with a churros cone, a Spanish and Portuguese pastry made with fried dough and covered in sugar. It is served with a wide variety of toppings like popcorn, Maltesers, and caramel sauce.
Advertisements
Ca Lem
This pleasant Notre-Dame-De-Grâce ice cream shop stands out because of its active charcoal coconut and black sesame ice cream cones. Ca Lem also offers other kinds of soft and hard ice cream, each more original and delicious than the next. Think apple and French Toast Crunch cereal, violet sweet potato, dulce de leche-pear spiral or pumpkin-spice latte. It's important to note though that some flavours are only offered for a limited amount of time.
Gema pizzeria
The family-owned Gema pizzeria is one of the rare, if not only, Montreal establishment to offer homemade ice cream made with custard. This incredibly rich and creamy dessert is offered in many traditional flavours like Belgian chocolate, pistachio and vanilla. You can also choose to add tantalizing garnishes, although it is not necessary since their frozen desserts are delicious plain.
Kamehameha Snack-Bar
This cute Hawaiian snack-bar in the Village serves savoury poke bowls, acaï bowls, spam musubis…And Taiyaki cones! Besides being superb and nicely decorated, these are truly delicious. Each cone matches a sorbet flavour with an ice cream flavour perfectly. For example, white chocolate and mango, cherry and cola or blueberry and lemon. Kamehameha also serves matcha affogatos, which you need to try at once.
Les Givrés
First known for its quality ice cream and its sometimes very original flavours – butternut squash or red pepper for example -, the menu at Les Givrés also includes an out of the ordinary dessert: The Givré hot-dog. This is essentially the frozen dessert version of a hot-dog. Visit one of their two locations to taste this amusing creation or to try one of their various flavours.
Noble Café
Coffee lovers would benefit from a visit to the Noble Café to enjoy their famous Cold Brew Float for a change from the traditional ice cream cone. This unconventional, large format version of the affogato is made with soft vanilla ice cream and cold brewed coffee. Also, try their ice cream sandwich made with two pieces of raw cookie dough.
Kem Coba
Be patient if you are planning a trip to Kem Coba on a beautiful summer day as the line may be long. But the wait will be worth it. Moreover, the gathering of people in front of the shop only testifies to the quality of the product that is served there. Kem Coba will add originality to your frozen dessert with its often unique and exotic flavours of soft and hard artisanal ice cream and sorbet. You can get a cornet with soursop, pandan leaf or jackfruit.
La Cabane de Danny
This Chinatown is a must-visit for anyone with a sweet tooth. This shop specializes in Hong Kong egg waffles and ice cream. Opt for an original bubble waffle or dare the matcha and red beans one. Then choose one or two ice cream flavours, available in four flavours: vanilla, mango, matcha, and black sesame. Finally, you have a wide choice of toppings with options such as strawberries, blueberries, marshmallows, chocolate, M&M, cereal, Pocky, kidney beans and various syrups.
Olimpico café
If you have any interest in quality coffee, spend a sunny afternoon on the terrace of Café Olimpico. Here you can enjoy traditional Italian coffee-based desserts such as crema di caffè, a smooth blend of espresso, milk, cream and sugar. The place also serves an authentic affogatos, a scoop of ice cream covered with a hot espresso, or a Remix, a drink made with espresso, milk and ice cream.
Blueboy
Piña colada bowls, watermelon bowls, churros, the Blueboy is the place par excellence for an extraordinary ice cream treat. The place stands out not only by its retro décor and atmosphere but also by its decadent desserts worthy of real American dinners of yesteryear. Gourmet and colourful experience guaranteed.
With all these unique ice cream choices and gourmet snacks from brunch to dinner, Montreal doesn't leave its place during the summer season. Whether you are a vegan or not, you will find the perfect dessert to refresh yourself this summer.
---
Cover photo credit: anhthytran7920/Instagram