13 of the Best Brunch Restaurants in Montreal
Vast and varied, Montreal's lunch and dinner scene leaves no one hungry. Here are some of the best brunch restaurants in Montreal.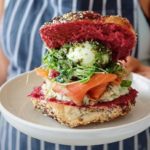 Brunch. This Sunday institution, both conceptual and grammatical contraction of breakfast and lunch, divides a nation. You're a fan or you're not. However, it must be admitted that the brunch culture is in full swing in the metropolis. There are so many choices and they do not lack in quality. This tradition is now more than an excuse to sleep in, get together with friends and sip cocktails before lunchtime. It has become a real gastronomic experience. Here are 13 of the best brunch restaurants in Montreal.
Advertisements
Butterblume
All at once a restaurant, café, counter and grocery store, this nice bright address on Saint-Laurent Boulevard a few steps from the Van Horne Viaduct serves breakfasts all week and welcomes you for brunch from Friday to Sunday. There is a fresh and light menu that includes a Quebec strawberry shortcake with lime, coconut mousse, livèche and puffed rice as well as a Matane shrimp roll, fried egg, spicy mayo, tempura shrimp and greenery. You can also find some products, such as jams, granola and homemade sweets as well as flowers and local agricultural products for sale at the small grocery store next to the restaurant.
Advertisements
Lawrence
For those looking for a classic and gourmet brunch experience, this chic and welcoming Mile End joint is the place to be. This must-go place has been given a makeover, but its popular weekend brunch remains unchanged. Full English breakfast, marinated herring and rye, scone with jam and clotted cream… Real good ingredients from a local and responsible farm. For an excellent breakfast at any time of the day and one of the best lunch sandwiches, take a look at Larry's next door, a small café-resto-bar with a relaxed atmosphere that belongs to the same owners.
Advertisements
Leméac
This chic French bistro on Laurier Street in the Outremont neighbourhood has long been among the greatest establishments to frequent on Sunday afternoons. Faithful to the French tradition, this distinguished restaurant offers a quality, authentic, classic and tasteful gastronomic experience. People go there as much for French toast with chocolate cream and bananas and poached eggs, bellinis, smoked salmon and Spanish caviar or to enjoy a mimosa in good company.
Advertisements
Melbourne Café
For a tasty, fresh and colourful breakfast-lunch you could enjoy on the Australian coast, check out the Melbourne Café every weekend starting at 10 am for their pop-up brunch. Beautiful and appetizing, the plates present original dishes often fruity, sometimes healthy, sometimes gourmand, and always marked by a touch of exoticism. Avocado toast, granola, porridges, several breakfast sandwiches, you will find all the classics that make Australian cafés famous. The charming local Mile End influenced, among other things, by the surf culture is also distinguished by its quality coffee and sometimes out of the ordinary items on the menu such as Lucky Charms, beetroot or turmeric lattes. Don't get there too late since once they have no more food, brunch is over.
Olive et Gourmando
This bakery-restaurant with its rustic décor and friendly atmosphere has been established in Old Montreal for over 20 years. Tourists and locals alike enjoy going here to enjoy a coffee and a few pastries or a simple but tasty lunch of sandwiches, soups and salads. Breakfast is served all week and brunch is served on Saturday and Sunday. On the menu, a gourmet French toast, a toast topped with homemade ricotta cheese, cucumber, roasted squash, Asian pear, walnuts, fresh herbs and Aleppo pepper honey vinaigrette as well as poached eggs, garlic bread, tomato, chickpeas, fennel, potatoes, homemade Toulouse sausage, avocado and fresh feta-yogurt-herb sauce.
Hoogan et Beaufort
People go here mainly in the evenings for a gastronomic experience that is unanimously sought after by Montreal critics. However, the local food-based cuisine served in this vast space with industrial accents on Molson Street is also worth a visit at brunch time. Anyone who wants to enjoy a unique, refined and tasty breakfast and dinner may find it difficult to make a choice among the options available. We propose to order several of these fresh and delicate dishes in order to share them to discover a maximum of flavours.
Régine Café
Régine embodies this warm aunt (with sometimes dubious aesthetic tastes) who's always cooking generous and decadent plates with love. Like a relative who takes pleasure in spoiling those she loves, the restaurant welcomes you with a comforting and colourful cuisine. Customers are ready to line up on the weekend to enjoy a homemade brioche bread, mascarpone cream, banana, banana butter and popcorn with pecans, or the corn waffle, trout gravlax, chives cream, tomato salsa dish. The less patient will be happy to know that brunch is served all week.
Maison Publique
Maison Publique serves gourmet and epicurean meals inspired by traditional English cuisine in a warm and relaxed atmosphere. This popular space in the Plateau Mont-Royal offers plates with local and seasonal flavours, although by popular demand, thick pancakes with bacon, eggs and blood sausage are permanently on the brunch menu. This one is offered on Saturdays and Sundays with mismatched tableware which only adds to the charm of the place where sought-after flavours and quality food unite in a unique and comforting experience with English accents.
Café Parvis
People like to frequent it during the week as much for breakfast and lunch as well as for dinner or to have a coffee at the table with our computer in their workspaces. This magnificent downtown Montreal café is both trendy and rural, preparing fresh and colourful cuisine, sometimes comforting, sometimes delicate from morning to night. That's why we like to go back for a weekend brunch to enjoy their nice plates. French toast with hazelnut butter, asparagus and marinated trout, pizza breakfast, toast with eggs, fresh ricotta, pastries, everything is delicious.
Tommy Saint-Paul
Contradiction in the Tommy family: the latest arrival is, in reality, the other's big brother! The new address, also located in Old Montreal, is considerably larger than the original Tommy Café on Notre-Dame Street and is, therefore, able to offer a larger menu and more seating. Served daily until 2 p.m., the brunch on Saint-Paul Street includes appetizing, colourful and fresh dishes, as well as healthier options and more comforting meals. Topped toast, omelettes, bagels, sandwiches, waffles, salads, smoothies, power bowls and more. There is something for everyone.
Boxermans
A favourite address of many, this magnificent space on Van Horne Street serves a tasty brunch as early as 10 am on Saturdays and Sundays. People go there to spend a good time in a relaxed atmosphere where business people and students meet and, of course, eat well and drink well. During breakfast-lunch time on the weekend, this means for many Boxermans famous sandwiches: bacon, egg, potatoes, tomato, cheese, spinach, mayonnaise, hot sauce. The menu also offers a generous plate of pancakes, a croque madame and other tasty and satisfying options.
Lili.co
By popular demand, Lili.co serves its renowned brunch Tuesday through Sunday. If you're not familiar with this festive chic place in the Mile-End, this should tell you something about the quality of their lunches. This favourite of the critics offers rich, sought-after and creative dishes. The changing menu offers several options often rather specific to lunch, although some classics remain. The famous banana pancakes, bacon, dulce de leche butter, walnuts and maple syrup, as well as bacon, lettuce, tomato, halloumi, basil aïoli and avocado club sandwich, are just a few examples of Lili.co's inspired, human, local and seasonal cuisine that attracts customers from 10 am.
Arthur's Nosh Bar
Big appetites, people hungry as wolves, fine palates and epicureans rub shoulders in this superb snack bar in the heart of the Saint-Henri district. Arthur's Nosh Bar is a family history and a modern tribute to traditional Jewish cuisine in the form of comforting, refined and hearty dishes. Families and friends are welcome to taste magnificent plates of classics such as schnitzel on challah bread and latkes, gravlax, scrambled eggs and caviar and other sometimes reinvented essentials. Brunch is only on Saturday and Sunday, but breakfast is served all day during the week… What more could you ask for?
---
Cover photo credit: lemelbournecafe/Instagram