Perfect summer cocktails for hot days in the sun
Perfect for garden parties or to have a few of your closest girlfriends over in your backyard, these summer cocktails won't disappoint your guests.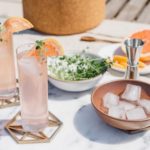 Add some novelty, flavour and a little time and effort into your alcoholic refreshments. Whether to entertain a group of friends in your garden or for a simple blissful moment by the pool, these 15 summer cocktails, some simple other a little bit more complex, are the perfect accompaniment to a good conversation. To savour alone or in good company during a moment of relaxation in the sun or a successful party.
Advertisements
Zanahoria verde
Forget about mimosas (for a little while). For your next summer brunch, surprise your guests by replacing the classic orange juice and champagne combo with this fresh and colourful cocktail. As its name suggests (zanahoria verde means green carrot), it is made from carrot juice. It also contains pineapple juice, Ancho Reyes liqueur, tequila, and agave syrup. Don't forget to garnish the drink with cilantro. To know the exact quantities, visit craftandcocktails.co.
Advertisements
Honeydew, shiso + kiwi sake
There aren't enough adjectives to describe this delicious summer cocktail. Superb, savoury, original, fresh and thirst-quenching, this refreshment is ideal for a garden party. It will embellish the decor and will also surprise your guests. Quite low in alcohol, it is perfect for an outdoor party during sunny warm summer days. In order to view the complete recipe of this saké, honeydew, kiwi, gin, lime, shiso and sparkling water cocktail, visit hollyandflora.com.
Advertisements
Nasturtium margarita
Get ready to find them in your plate: pretty, perfumed and savoury, edible flowers are part of this year's biggest culinary trends. Why not add them to your beverages this summer? For a trendy approach of this summer classic, serve this nasturtium margarita recipe at your next party. Their peppery taste is an excellent addition to the orange liqueur, orange juice, lime, agave syrup, and, of course, tequila. Visit Floating Kitchen for the complete recipe.
Advertisements
Aperol and hibiscus cocktail
Described by its creator, Jayme Henderson, as "a little bit sweet, a little bit fruity, a little bit sparkling and a bit bitter," this hibiscus cocktail was specially made to be served in a pitcher! Ideal for a brunch between girlfriends or a fun night in with your friends on your patio, this drink is like a love anthem between women. Visit thekitchn.com to prepare a large amount of this sparkling hibiscus tea, ginger, white rum, sparkling wine and Aperol cocktail and invite the most important women in your life over to enjoy it with you.
Green sangria
A summer without sangria is quite a sad summer. It is the cocktail we enjoy sipping while reading a book in the sun, while chatting on our balcony with our feet up in the air, while cooking and while planning kids' birthdays. It is the summer cocktail that works with any moments and that we'll never get tired of. Although, sometimes a little change can be good. Why not try this kiwi, lime and mint version? The complete recipe of this sangria can be found on thesweetestoccasion.com. We suggest you make more than you think you'll need…You'll probably want to keep some in your fridge.
Boozy watermelon float
Only four ingredients and one of them is watermelon: what more could you ask for in a summer cocktail? Extremely simple, easy to prepare and absolutely delicious, this watermelon boozy float will probably become a constant addition to your barbecues. Half-cocktail, half-dessert, it will please those with a sweet tooth. All you need is coconut sorbet, watermelon juice, ginger liqueur and sparkling water. Visit theinspiredhome.com to follow the recipe.
 Sage spritz
This gin, sage, elderflower, prosecco, lemon and soda based preparation is the perfect summertime alcoholic beverage if you're tired of fruity cocktails. Refreshing, simple and light, but still savoury and aromatic, it is perfect for lazy afternoons as well as evenings with friends. Go out to your local farmer's market or in your own garden to get fresh sage and take a look at honestlyyum.com for the exact recipe of this thirst-quenching spritz.
Lemon thyme raspberry vodkas
Simple, colourful, only slightly sweet and undeniably summery, this cocktail perfectly mixes fruits and sweet herbs.  With a predominance of acidity, it's a nice contrast from other summer drinks that are often quite syrupy. It is perfect for adults during a children's party or during a casual happy hour. Garnish your glasses with iced raspberries and don't forget to add a fresh thyme branch. Find the complete recipe of this raspberry, thyme, lemon and vodka drink on fauxmartha.com.
Jalapeño Vanilla Piña Cocktail
For many, the piña colada is a must to enjoy by the pool or on the beach. Treat pineapple lovers with this spicy, revisited version of the classic piña colada. Discover this original and exotic recipe that combines pineapple juice, lemon, vanilla and jalapeño syrup, salt and tequila on allpurposeflourchild.com. To be enjoyed on any occasion, not just in a bathing suit and sunglasses.
Cucumber avocado daiquiri
Avocado has been a favourite food for some time now and is still one of the products omnipresent on menus and in our kitchens. And with good reason. Creamy and subtle, but tasty, it is not about to disappear from our grocery lists. We have seen it – and tasted it – prepared in many ways and added to many classics, but rarely alcoholic beverages. Anyway, here's a surprisingly tasty cucumber avocado daiquiri recipe. Visit sugarandcharm.com to test this recipe.
Blackberry prosecco mojitos
Are some fresh blackberries giving you the eye on your kitchen counter? Add some colour to your mojitos! Amanda from cookienameddesire.com suggests a creative and fruity mojito recipe by adding something extra to the traditional lime, mint, sugar and rum mix with some fresh blackberries, blackberry syrup and prosecco. Make your own syrup with Amanda's recipe or buy one to save some time. Serve it cold and garnish with fresh mint.
Grapefruit margarita
Another staple summer drink, margaritas are perfect to savour after a long – and hot – day of work but also on a lounge chair with a great book in hand. Sweet, acidic and simply delicious, this subtle variation of a traditional margarita (but still recognizable) will satisfy you no matter your mood. Learn the steps to prepare the grapefruit margarita on appartement34.com.
Cucumber, aloe & coconut water cocktails
Summer often means holidays and vacation time is the perfect moment to take care of oneself. This cocktail is the ultimate drink to sip during an at-home spa day between friends. Made with cucumber, aloe, coconut water, elderflower, and gin, this drink is not only incredibly fresh and refreshing but it is also (kind of) good for your health! Discover the cucumber, aloe & coconut water cocktail recipe on theinspiredhome.com.
Honeyed ginger bourbon fizz
This lovely cocktail has been specially designed to be enjoyed when summer is drawing to an end and autumn flavours are beginning to be desired. However, after tasting this tasty and sparkling white peach beverage, you may well concoct it throughout the peach season. The exact recipe of this white peach, honey, ginger, lemon, bourbon and cardamon preparation by Colleen Jeffers is on her Instagram account.
---
Cover photo credit: craftandcocktail/Instagram