The 10 best affordable yoga retreats in the world
Recharge your batteries and perfect your asanas in an enchanting setting without having to empty your wallet. You'll come back even more zen.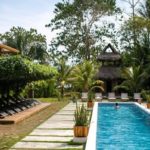 Neophytes and experienced yogis can get away from their daily life and enjoy a Zen stay in a picturesque place without ruining themselves. Whether you're looking for warm sand or unspoilable hills, looking to gain flexibility, perfect your practice or deepen your mind, body and soul connection, there's a retreat for you. Enjoy an unforgettable journey in one of the 10 best affordable yoga retreats in the world.
Advertisements
Kalani Retreat Center, Hawaii
Halfway between a hippie spot and a luxurious retreat center, Kalani is the perfect place to take care of yourself, body and soul. Located on Hawaii's Big Island, the beautiful site stretches over 120 acres of tropical forest and includes various lodging options. In addition to some of the approximately 50 yoga classes and workshops offered each week, visitors have access to a multitude of body care, aquatic therapies and specialized services offered by the wellness centre. Book a room for a few days, weeks or even months or apply for one of their ideal volunteer programs for an extended stay or smaller budget.
Advertisements
Anamaya Resort, Costa Rica
Anamaya stands out among the Costa Rican retreats, which is no small thing to say. With its exotic climate and pura vida atmosphere, the country is a gathering place for many yogis and surfers. A few steps from an impressive waterfall and built on a cliff edge, this center offers the possibility of completing your morning asanas on an open platform overlooking the ocean. Add Anusara Yoga, meditation, human and passionate staff, and healthy gourmet and organic cuisine to these sublime facilities and you'll understand what makes Anamaya a must-see retreat.
Advertisements
The Sanctuary Spa Resort, Thailand
Make no mistake; although located on the Thai island of Koh Pangan renowned for its famous full moon celebrations, The Sanctuary is a real oasis of peace, relaxation, well-being and personal growth. In addition to having access to two yoga classes a day, visitors can take advantage of their stay in this paradise to revitalize themselves through one of their detoxification programs. The massages, the exclusively herbal food, the surrounding nature and the soothing atmosphere of the centre also contribute to a physical and mental experience conducive to transformation.
Advertisements
Hridaya Yoga, Mexico
Spiritual souls and community spirits will be charmed by this center built on the top of a hill in a charming Mexican village overlooking the ocean. All open-minded and caring visitors are welcome to take part in the many workshops and activities offered. Fly to this extremely affordable center on the west coast of Mexico to participate in Hatha yoga classes and let yourself be tempted by meditation and perhaps even a silent retreat! First, however, be sure to consult the local code of ethics and morals.
Silver Island Yoga, Greece
This charming family business offers a unique and personalized yoga experience. Located on a beautiful private Greek island, this ecological retreat allows you to experience the rhythm of island life, disconnect from technology and connect with yourself and nature. The full schedule includes, among other things, two yoga classes a day, excursions, meditation and swimming. With its charming decoration typical of the Greek islands, its healthy and vegetarian Mediterranean cuisine and its natural wines, the place has everything to please and to allow its few visitors to recharge their batteries.
Ulpotha, Sri Lanka
This ecological and vegetarian farm offers yoga and Ayurveda retreats in the heart of Sri Lanka's longest uninhabited region. Surrounded by mountains still populated by monks and bordered by a mystical lake, the place offers an unspeakable spiritual experience. Visitors are accommodated in huts made of clay and cob with traditional decor in harmony with the fauna and flora that surrounds it. Ulpota is a haven of salutary serenity conducive to the deepening of his practice and healing through Ayurveda.
Yobaba, France
Escape into this majestic historical residence and its walled garden of river stones from this medieval village in the south of France. Known for its excellent vegan cuisine and wellness retreats, the centre celebrates the pleasure of eating for vitality, the power of meditation and yoga and the richness of silence. Yobaba offers an ideal environment to complete your asanas in an idyllic setting, receive quality teaching, connect more with your spirituality or simply relax and recharge your batteries.
Blue Osa Resort and Spa, Costa Rica
This luxurious and intimate ecological paradise is hidden in a remote region of southwest Costa Rica. In addition to being bordered by tropical forest, it has direct access to the beach. Recognized for the rigorous teachings, which is built on the foundations of authentic yoga practice, the place offers various formulas and programs including teacher-yogis training and a complete spa service. A stay at Blue Osa encourages revitalization, relaxation, serenity and harmony in the respect of several yogic rituals and traditions such as Himalayan songs, a morning period of silence and a blessing before an evening meal from the farm to the table.
Soul and Surf – India
Yogis and beginners and experienced surfers frequent this tourist complex in the relaxed atmosphere of Kerala in India for a good dose of positive waves. The yoga platform on the hotel roof allows you to practice yoga in front of a beautiful sunset or sunrise over the Indian Ocean. The soul aspect of the place also includes massages, therapy, music, a local and comforting cuisine as well as a friendly and warm staff. If you want to see more countries, also visit Sri Lanka's beautiful, modern Soul and Surf establishment.
Kaliyoga, Italy
The beauty of the original infrastructure is matched only by the majesty of the land it occupies. Located in the beautiful region of Puglia in Italy, the country hotel is surrounded by trulli – small white stone huts with conical roofs – and olive trees, in addition to offering an access to the beach. The centre values quality yoga teaching and aims to enhance the well-being of visitors through therapeutic care, workshops and delicious, nutritious vegetarian cuisine. Note that it is also possible to live the Kaliyoga experience in Spain and in the city of London.
---
Cover photo credit: anamayaresort/Instagram