How to have naturally long and thick eyelashes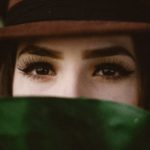 Getting voluminous eyelashes without using extensions can be done, just follow these six easy tips and tricks.
Eyelash extensions can give the impression that you have voluminous lashes. When removing them, though, they can damage your real lashes. This is the number one reason why you should favour a natural approach more often than not when it comes to your eyelashes. The following tips and tricks are also time-efficient, as well as budget-friendly, so why not give them a try?
1

Eating foods rich in vitamins
Advertisements
To begin with, some foods are well-known to help hair growth. For instance, salmon is rich in Omega-3, greek yogurt in vitamin B5 and citrus fruits in vitamin C. Spinach is also a gold mine when it comes to vitamins, as it's an important source of vitamin A, C, B9 as well as iron. All these vitamins will help your lashes being strong and healthy.
Having a balanced diet when it comes to proteins and iron will also contribute to your eyelashes' health.
If cooking isn't your strong suit, you may want to consider taking vitamin supplements.
Advertisements
Advertisements
Of course, the best way to have long eyelashes without using extensions is to use the appropriate mascara. Choose mascara with a volumizing effect, with its formula and brush specially designed for this purpose. Moreover, avoid waterproof mascara—it's harder to remove. You will be less at risk to damage your lashes if you use a mascara that isn't waterproof.
Advertisements
3

Taking a break from mascara
Advertisements
Furthermore, it's recommended you give your eyelashes a break from time to time; you shouldn't wear mascara every day. Try to have at least one day per week where you don't wear mascara. For people who absolutely have to wear mascara seven days a week, try removing it as soon as possible when you don't need it anymore.
Advertisements
4

Removing your makeup well
Advertisements
When the time comes to remove your makeup, take the time to do it well, even if you had a long day. Be nice yo your eyelids, and slowly remove your makeup until there is no residue left. Opt for a gentle makeup remover, or use coconut oil. This type of oil has the advantage to hydrate as well as remove makeup.
Failing to completely remove your mascara can cause skin irritation, dry your eyelashes and consequently make them more prone to break or fall.
Advertisements
Advertisements
Once your makeup is completely removed, you can give yourself an eye massage once or twice a week. Start by applying a warm compress or washcloth to your eyes. You can also take this moment to relax. Massage your eyelids gently, sweeping your finger along the length of your lower eyelid. Repeat this movement slowly, for 30 seconds. Then, close your eyes and similarly massage your upper eyelids. If you experience discomfort while doing this, try applying less pressure.
Massaging your eyelids will keep your pores clean, and it will also increase blood flow as well as stimulate hair growth. Bonus: it's also good for your vision!
Advertisements
6

Using a serum or natural oil
Advertisements
Finally, consider using a serum or a type of natural oil for your eyelashes. After all, they are not just for your skin or your hair! Your lashes can also benefit from such treatment. There are some eyelash serums on the market, which you apply before bedtime. They can do wonders in just a few weeks.
Since serums can be pricey, you could instead opt for a more natural treatment, or make your own treatment. For instance, coconut oil, shea butter, castor oil and green tea are some of the most popular ingredients for DIY treatments.
For more tips and tricks, you can also take a look at our previous article on the subject.
---
Cover photo: Allef Vinicius | Unsplash
Advertisements