How to have longer and thicker eyelashes without getting extensions
Seven tips and tricks to achieve a voluminous and full look without the disadvantages of eyelash extensions.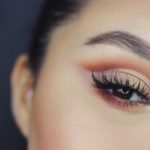 It is true that when applied properly, extensions can look really amazing and make your eyes pop. However, extensions bought at the pharmacy are difficult to apply and the extremities tend to unstick easily. Meanwhile, professional extensions need regular maintenance and the costs add up quickly. You also have to find yourself a great lash technician and cross your fingers you won't develop an infection. The cherry on the sundae: both these methods can have very bad consequences on the health of your lashes. The solution: master these 7 tricks to have longer and thicker eyelashes without getting extensions.
Advertisements
Diet
Just as some nutrients promote hair growth, some vitamins help promote the health of your eyelashes. This is the case with vitamin C, vitamin E, niacin, biotin and calcium. Make sure you eat enough foods that are rich in these vitamins. If you don't feel like complicating things or you want to be sure to have enough, opt for supplements.
Advertisements
Serum
It is not only your skin that benefits from topical treatments, but also your eyelashes. Especially if you are looking for the lash extension look while preserving your natural lashes. A good serum designed specifically for your lashes will help you get the full-lash look you're looking for. Make sure you are well informed and choose one that is not only effective but also safe for your health and the health of your eyes. All you have to do now is apply it religiously and be patient.
Advertisements
Curler
Your grandmother kept one in her makeup bag and it is probably also part of your beauty ritual. The eyelash curler is nothing new. So you're probably wondering why it's on this list. Here is the difference: after using your regular tool, repeat the process this time with a half curler. This one will do the job more accurately and independently of the shape of your eyes. Don't forget to hold the position properly, too, about 10 seconds.
Advertisements
Apply a primer
Adding primer to your lashes before applying your mascara allows you to gain a few millimetres and a little thickness. The process also has the advantage of brushing your lashes, separating them and freeing them from any clumps that may be present, in addition to giving them volume. Mascara primers are available in white or black. Choose the latter if you have difficulty covering a white primer with your mascara.
Eyeliner
The famous black eyeliner line helps to add depth to your eyes but it also gives the illusion of fuller lashes. If you're not the kind of woman who wears an eyeliner line, consider buying an eyeliner and opt for black mascara. No need to overdo it. Simply tint the area of your lashes to give intensity and an impression of depth.
Mascara
Obviously, mascara is indispensable for a look worthy of eyelash extensions. However, choosing the right products is very important. Of course, opt for a formula specially designed to generate maximum volume and length. Also, avoid using water-resistant mascara on a daily basis. These require more effort and more aggressive products when removing your mascara, which can damage your lashes.
Applying your mascara
The way you apply your mascara also plays a role in the final result. First, avoid pumping the brush in the mascara tube. This harmless little habit causes air to enter the tube, which is bad for the product and encourages the creation of bacteria. Don't forget to change your mascara on a regular basis. Finally, be sure to apply the product thoroughly to the base of your lashes. Also, apply a first coat and let dry before applying a second.
There's nothing wrong with having eyelash extensions occasionally to give your eyes a more intense look. However, they are very harmful to your natural lashes. So opt for these practical tips to enjoy the "extension" look without having to go to the salon, damage your lashes or walk around with the ends of your false lashes ungluing.
---
Cover photo: Haley Rivera/Unsplash