Suffering from anxiety? Here's how yoga can help you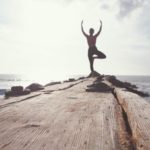 Advertisement - Continue reading below
For those of us suffering from anxiety, yoga can be a game changer. Here's why health professionals are increasingly recommending it as a complementary therapy.
If you are reading this, chances are you are familiar with anxiety. Ever felt unusually panicky, nervous, scared and uneasy? Tensed? Do you get uncontrolled and obsessive thoughts about past experiences? Do you have problems sleeping? Those can all be associated with anxiety. Luckily, some things can be done to relieve it.
\n
Some people will take medicine and/or go to therapy; some others might also try to meditate and be more active physically. Yoga is the perfect alliance of the latter two.
Advertisement - Continue reading below
Advertisement