Glamping: 10 perfect spots in Quebec for your next adventure
Here is our top 10 picks for an amazing time in the province of Quebec.
Glamping, or glamorous camping, comes in a variety of experiences. Before you jump head first into glamping, here is a little glamping 101. Ready? Here we go!
Entre cîme et racines has an amazing offer of ecolodges right in the middle of the forest. Not too far away from Montreal, accessible at any time of the year, this is a perfect place to start your glamping experience.
---
This one is literally less than 45 minutes away from Montreal, right in the middle of the Saint-Lawrence river. You could glamp there in domes, small cabins or tents. It's perfect for a getaway with friends or family! The park also offers a variety of activities such as kayaking, hiking, bird watching and more.
---
Once again not too far away from Montreal, Les Refuges perchés offers amazing tree houses as well as yurts. Discover the beauty of Mont-Tremblant and take this opportunity to do some hiking, swimming, fishing or snowshoeing. The fall season there is especially spectacular. This is also the perfect glamping spot for families.
---
Bercé par l'Harricana is this very complete experience, where you get to hike, canoe, sleep in traditional lodgings and above all learn about the Abitibiwinni First Nation. This adventure is also quite flexible, as guides will work with your needs and physical condition. Probably best if you are going with friends and/or a significant other that are healthy, to begin with. From June to September only.
---
If the idea of sleeping in a bubble makes you happy, this one is for you. Located in Sacré-Cœur, near Tadoussac, this glamping location also offers tree houses. The forest and the fjord are so beautiful there a French family completely fell in love with the place, moving there permanently and building the family business that is Canapée Lit.
---
This one is one of our favourite couple getaways, with its quaint little cabins on the Red River shores. Enjoy the scenery and have fun in the water by renting a kayak, a SUP or a canoe. Running all year long, minus the water activities during the cold season, obviously.
---
These tiny houses also seem perfect to spend time with your significant other. Repère Boréal really brings out the glamour in glamping, with their luxurious yet affordable habitations. You can also get a massage on location and there's plenty of things to do around as well.
---
Aventure Plume Blanche allows you to discover the Pekuakamiulnuatsh First Nation on the shores of Piekuakami, also known as lac Saint-Jean. Whether you want to stay in a teepee, a prospector tent, a cabin or a shaputuan, you will get to taste local flavours and learn about this First Nation.
---
Floating yurts. Do we need to say more? Seriously though, glamping doesn't get more unique than that. Moreover, the yurts are actually authentic Mongolian yurts, imported from Mongolia. Definitely worth the beautiful road trip.
---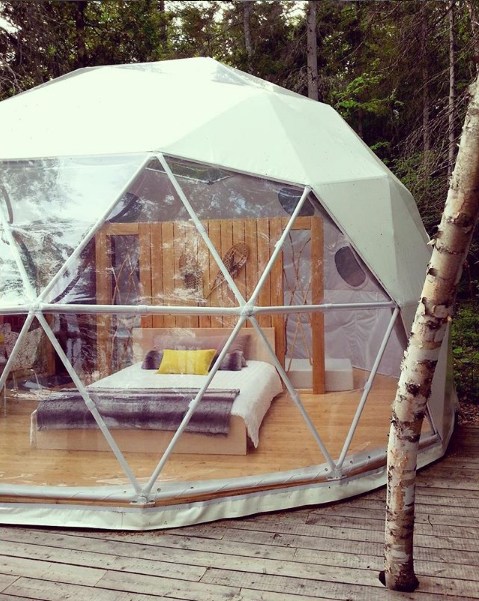 Our ultimate favourite goes to Cap Jaseux. Not only can you stay in this beautiful dome, but you could also stay in a tree house or in a cabin. This site also offers plenty of action: Via-Ferrata, sailing, kayaking, doing high rope adventures, swimming, fishing as well as picking mushrooms and wild plants.
---
Cover photo: selected_travel_goals | Instagram
---