The Best At-Home Exercices To Do To Stay In Shape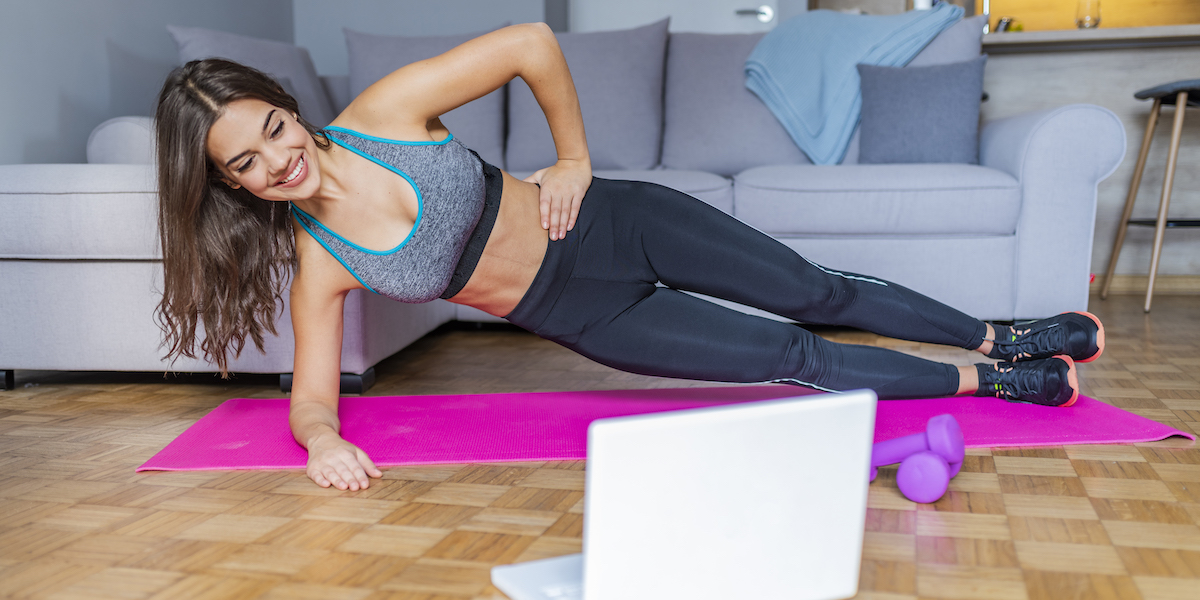 Training at home is a lot easier than you think. With tons of YouTube videos, at-home exercises help you stay in shape without leaving the house!
Staying in shape is obviously one of the most important things if you want to live a long and healthy life, but many people can be discouraged by the price a gym membership can cost, or simply by how long it takes to get there, work out, and come back. Fortunately, it is possible to stay in shape by not spending a penny and staying home! Check out the best YouTube videos for effective at-home exercises.
1

Emi Wong's 10-minute full body HIIT workout
"A short workout is better than no workout." Emi Wong will convince you to do her workout at least once a week to get abs like hers. Her full body HIIT workout consists of 10 exercises that last 45 seconds each: jumping jacks, side plank rotation, burpees, commandos, half burpees, crossover reverse lunges, jump squats, opposite arm & leg raises, push-ups and speed skaters. You only need some workout gear and a mat, and you're ready!
Looking to work on your upper body? Legs? Abs? Shoulders? Back? You can do it all with Boho Beautiful's 15-minute workout video. Her routine will work every muscle in your body and she also has a modified version for those who are just starting out. She suggests you warm up before by going on a 15-minute run and to complete this workout 3-4 times a week for the best results. No equipment needed, the Koh Wai beach in the background is not a bad addition either.
3

10 minute fat-blasting circuit
Created by Andrea Orbeck, who has trained many Victoria's Secret models throughout her career, this 10 minute full-body workout does not require any equipment. You will sweat (a lot) but you'll never get bored and when the video ends, you'll almost be sad it's over!
4

Astrid Swan's 10-minute HIIT workout
Butt kicks, burpee spins, diamond clicks, these foreign sounding exercises are intense and will make you sweat. Celebrity trainer Astrid McGuire created a workout routine using only your body weight to get you moving and burning calories. Her cool down at the end is a nice additional touch and you'll definitely show off some of these moves to your family and friends.
A fitness Youtuber fan favourite, fitness instructor, entrepreneur and online personality, Cassey Ho, is the best virtual personal trainer out there; she will kick your butt, however her bubbly personality makes up for her intense workouts. The video is thirty minutes long and will be working out your abs, butt and thighs without any equipment. What are you waiting for?
Alexis Ren, a famous Instagram model, has more than 12 million followers on the platform and is an avid exerciser. She started her beauty, travel, workout, etc. blog about a year ago and has three workout videos if ever you want to try others. This 10 minute video is dedicated to getting you flat abs with no equipment except a mat and your running shoes.
7

10 min HIIT cardio workout for fat loss
Love working out with your significant other? Make a competition out of it with this 10-minute workout and get your couple moving. This video does require some dumbbells but don't worry, if you don't have any at home you can always use household objects like canned foods or dried rice and beans in containers. Follow either Claudia or Kozak depending on you're comfortable doing.
8

Intermediate pilates mat workout
A pilates workout is a great way to target smaller muscles and to make your muscles leaner. This video will help strengthen your core, tone your legs, arms and waistline. If you've practiced pilates before, this video is for an intermediate level so you should already be familiar with the movements and the pace. All you need is a mat and some stretchy clothes so you can move around with total ease.
9

10 minute cardio dance abs workout
If you love to dance and hate traditional workouts, we suggest you check out this cardio abs workout by Keaira LaShae. This high energy, fat-burning dance workout will sculpt your abs, shape your booty and make your legs stronger all while having fun with the lovable Keaira.
The Lean Machines' 20 seconds of workout and 10 seconds of rest HIIT session is a fat-burning, fast and easy to follow video you'll be happy to follow. All the exercises are straightforward and don't require you to rewind the video 5 times to make sure you're doing the exercises properly. Squats, lunges, push-ups, V ups, these are all exercises you've seen before.
With a warm-up, 45 seconds on, 15 seconds off ABAB format (exercise 1, exercise 2, repeat, exercise 3, exercise 4, repeat, etc.) and cool down, this calorie-blasting cardio training will get you moving and panting in no time. Straightforward, effective and free of any equipment, you'll want to complete this workout out 3 times a week for the best results. Instead of watching another Friends rerun, do this! You'll feel great afterwards.
Fitness guru Tracy Anderson has been helping celebrities like Gwyneth Paltrow, Christy Turlington, Cameron Diaz, Jennifer Aniston and Madonna to attain their fitness goals. You can do this 10 minute workout anywhere, you just need some willingness.
13

10 minute HIIT cardio workout for home
Quite different from the previous videos, Group HIIT's 10-minute workout only has 4 cardio focused moves:  half burpees, X jumps, mountain climbers and pencil jacks that last 30 seconds each. You have 20 seconds of rest between each exercise and you do them 3 times. This is a great video for beginners or people who aren't used to HIIT workouts since all the exercises are shown before you start doing them yourself.
14

Calorie burning workout
Under an hour, this sweat-inducing full body workout by celebrity trainer Jeanette Jenkins will help you burn 500 calories. If you watch this video and feel intimidated, don't worry! There are three women in the video to follow so you can choose if you want to do the "real" workout or the modified versions! You'll get fit fast with this full body workout.
15

10 minute pilates workout
Fans of pilates and stretching will enjoy this quick and effective workout. These pilates moves will tone and strengthen your core, legs and arms. You'll achieve more ab definition, toner legs, arms and butt. Again, all you need for this workout is a mat and a bit of space.
Lucy Wyndham-Read gets you moving with her 10-minute HIIT workout. Choose between her modified or full position moves, whatever makes you the most comfortable. Jumping jacks, heel kicks, squats, lunges, Lucy explains every exercise in great detail to make sure you are following her moves properly.
What's more fun than dancing? Combine cardio and fat burning exercises to lose body weight with this 40-minute dance cardio video created by the athleticwear Sweaty Betty and LA celebrity trainer Simone De La Rue. You can't help but smile when you do this workout! Note that this video does require weights but you can always use cans of beans!
18

10 minute ab sculpting workout
Blogilates is one of our favourite Youtube workout channels because of Cassey Ho's incredibly effective and diverse videos, her energy and how good (and sweaty) one feels after her videos are over. This 10 minute abs workout will probably make you curse and cry but power through and you'll see results fast.
19

10 minute 120 calorie burning HIIT workout
These 6 total body exercises using just your body weight will work out your abs, obliques, shoulders, biceps, triceps, hamstrings, glutes, quads, and calves. Each exercise will be performed for 10 reps but beware! There are no rests in this 10-minute HIIT video so if you need a drink of water or a few minutes to rest, pause the video so you don't miss any moves. All you need is your workout clothes and a mat and some music blasting, of course!
20

POP Pilates body slimming workout
Another fun video from Cassey Ho but this time it is a POP pilates for beginners workout! If you have never worked out before, you don't want to start with a difficult video or else you might give up half way and never want to work out again. Try Cassey's video for an introduction to POP pilates!
21

10 minute booty shaking waist workout
Blame it on social media, the Kardashians or whatever you like but having a round, perky and toned butt is something almost everyone desires. Tiffany Rothe wants you to have fun while tightening and firming your arms, legs, abs and butt.
Beginners, this is your chance to shine. Learn the ins and outs of HIIT with this easy to follow video. Lindsay Brin will walk you through all the exercises and also includes a fun warm-up in case you haven't thought of warming up your muscles before starting the workout. There are 10 exercises to do and Lindsay explains the moves, you feel as though she's right there with you. This is also a great workout for new moms.
High intensity interval training (HIIT) is a type of workout that targets your whole body.  No equipment needed, use your body weight to do squats, push-ups, high knees and many more exercises. Heather ads the seconds at the bottom of the screen so you always know how many seconds are left until the next exercise.
No equipment, 10 minutes, intense. This booty workout will sculpt your behind and get you Brazillian bikini ready. Pamela gets right to it, starts with pulse lunges and continues to workout your booty with exercises that last 30 seconds each. She doesn't tie her hair but we suggest you do because you will be sweating.
25

10 minute high intensity workout
Tone your body, burn fat and increase your heart rate with Rebecca-Louise's 10 minute high intensity workout. You will reach your fitness goals with the help of your bodyweight and bodyweight only. This HIIT routine is dynamic and you don't have time to get bored since the exercises change so quickly. You will definitely feel the afterburn once you've completed this quick workout.
Complete this workout in your home when it's cold and rainy or outside when the sun is shining and the weather is warm since all you need is your running shoes and a mat. The woman really explains all the exercises and gives you tips on how to do them properly so you don't get hurt!
You will have a hard time catching your breath with Chloe Ting's strength exercises. We love the fact that Chloe has a square in the corner that shows you the next exercise, and there's also a timer so you know how much time you have left. You will work all your muscle groups and get your heart pumping!
Not familiar with tabata? This type of workout is when you do an exercise for 20 seconds, you rest for 10 seconds for 4 minutes for each set. It is intense. Sydney Cummings explains the exercises very well and her workout is perfect since it uses all your body's muscles. This 30-minute workout requires no equipment and is perfect for a quick Saturday morning wake up or an after work Thursday evening sweat session.