15 voluminous hairstyles for those with fine hair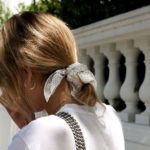 If you have fine hair, you probably wish to add a bit of volume to your mane. Here are some voluminous hairstyles to embrace right now!
Some people are lucky enough to have tons of volume, without having to use styling products or a hairdryer. Of course, it has to be said that this is not the case for everyone! If your hair is very fine and every morning you have to spend countless minutes fighting with your hair to get a minimum of volume, these voluminous hairstyles should make you grow a sigh of relief. They are made specifically for those with fine hair and are very easy to recreate. Adopt them now!
1

Voluminous hairstyles to try
Advertisements
When you see a celebrity on the red carpet, you automatically admire their thick hair, flattering waves or beachy tresses. But, most celebrities, like most women, have fine hair. You would never have guessed because their glam team is so good at camouflaging thin hair by changing the hair texture and by layering hair to fake volume (expensive extensions help too). The 15 volumizing and cute hairstyles below will help you get that celeb look. It's time to whip out the flat iron, the round brush, the texturizing spray and the styling cream!
Curl your hair to get more volume
Why not get inspired by Alexa Chung, a British model and television host, to get more volume and length in your hair? To do this, all you need to do is curl your hair with a little dollop of styling product. This will ensure your curls will last all day, guaranteeing some volume and body to your hair.
Dare to try a short and sculpted style
Just because you have short hair, it does not mean you can't have stylish and voluminous hair. Proof: Ruby Rose has gorgeous hair. To get a voluminous hairstyle like hers, take some pomade and place your hair on the opposite side of where it grows. Then, you just have to style it.
Create a strong part in your hair
You can also opt for Taylor Swift's hairstyle even if you have long hair. Although you should avoid using styling products like pomade. Indeed, this type of product will add weight to your hair and cancel the voluminous effect wanted.
Style your hair outwards
A voluminous hairstyle you can try is to style your hair outwards. By moving your hair away from your face, you can create a voluminous look. This styling method is great for people with very fine and straight hair.
Opt for a loose ponytail
One way to give the impression that you have more volume in your hair is to opt for a high and loose ponytail. Besides giving you a smashing look, it is very easy and quick to create and you don't need any styling products at all!
Braid your hair asymmetrically
If you've always had a passion for French braids, know that you can fix flat-hair problems with this elegant hairstyle. Indeed, the French braid, added to this simple hairstyle, is a good way to give dimension and volume to your hair.
Style your pixie haircut towards the back
It is possible to get more volume by getting a pixie haircut and styling your hair towards the back like Jennifer Lawrence has done. All you need to do is use a bit of pomade or hairspray to style your bangs towards the back and you're done!
Loosen your braid
Do you usually braid your hair very tightly? Why not keep your braid loose? By pulling on a few pieces of hair from your braid, this will create a great voluminous effect. This is one of the easiest and prettiest hairstyles you can create!
Try the puffy look
We're not saying to revisit the 1960s. But, know that a subtle puffy look can not only add volume to your hairstyle but it also adds a lot of elegance to your look.
Try a half bun
The half-bun is the fast and simple hairstyle to recreate. Also, this is a great way to add length and height to your hair. You can combine a voluminous effect with the bun but still have a long-haired look. Fantastic, isn't it?
Here's how to get an elegant and voluminous ponytail
If you want to have a voluminous and chic ponytail, wrap your hair tie with your hair. This will give the impression that you have thicker and more voluminous hair. You can secure your hair around the elastic with a pin.
Experiment with hair accessories
It's not only hairstyles that can give you more volume. In fact, you can fix your flat and boring hair with cute hair accessories. Headbands and other hair accessories can give the impression that you have thicker hair all while attracting attention.
Keep your bangs long
Try to keep your bangs long and start them further, meaning at the top of your head. This way, it will be thicker and thus add volume to your hairstyle.
Transform your braid into a crown braid
Just like the asymmetrical French braid, this hairstyle can help create volume around your face. You have to, obviously, be quite good at making French braids.
Opt for an old-fashioned style
If you have a special night coming up, why not opt for this ravishing old-fashioned hairstyle? Of course, you'll need a bit more time to create this look but it will add tons of volume and make you look like a gorgeous movie star!
It is actually possible to style fine and boring hair without using crazy hair techniques and tons of tools and styling products. Not only does using products take a lot of time but they also take a toll on your hair's health. Don't hesitate to try one of these voluminous hairstyles and to add your own personal touch to them!
---
Cover photo: @theouai | Instagram
Advertisements