Women Hairstyles That Will Knock Years Off You!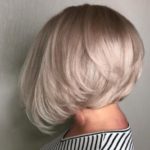 Advertisements
Julianne Hough rocks the soft bob look and so can you.
The relaxed layers add a beautiful dimension to the cut, while the incorporation of soft waves gives the look a youthful appearance.
Advertisements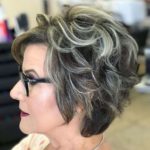 Advertisements
Dark colors can age you. However, if you are naturally dark-haired, this doesn't mean you need to reach for the bleach.
Simply add highlights or tones that are two shades lighter than your natural color to brighten your face and lift your look.
Advertisements
3

Cut thinning hair to chin length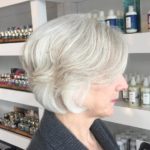 Advertisements
If you're struggling with thinning hair, try a chin-length bob that features angled cuts that frame your face.
Skilled stylists will be able to trim your hair in a way that creates the illusion of volume while also giving you an edgy, younger appearance.
Advertisements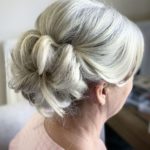 Advertisements
If you're seeking a classy look, try a chignon to smooth out wrinkles and enhance your youth. Alternatively, a messy bun can make you appear younger and give you a fun look.
To achieve the latter, simply pull your hair back into a standard bun and rough it up slightly to generate that dishevelled appearance.
Advertisements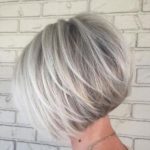 Advertisements
When it comes to choosing a haircut that will stand the test of time, you can't go wrong with an A-line bob.
In addition to being timeless, bobs flatter the majority of hair types and face shapes. Furthermore, they enhance volume and give you a clean, finished look.
Advertisements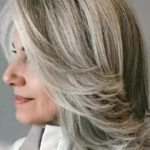 Advertisements
Incorporating lots of layers into your haircut can give you a great look with minimum effort.
To switch it up a little, curl sections of your hair around curling tongs to move the layers away from the face and achieve a stylish look.
Advertisements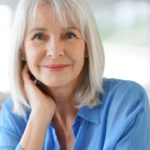 Advertisements
Soften your face with soft bangs that frame your features. If it works for the Duchess of Cambridge, it can work for you! Bangs can transform your appearance.
If you get bored of the look, you can simply pin them to one side or grow them out altogether.
Advertisements
Advertisements
Although braids may appear to be a style that is reserved for younger people, mature women can pull them off.
You can position a braid across the crown of your head, or regain your youth with a side-swept braid complete with messy ends.
Advertisements
9

Keep it short and sweet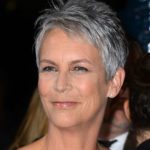 Advertisements
The pixie cut is another timeless classic that suits women of all ages providing they have the confidence to pull it off.
If you go down this route, you'll need to invest in high-quality wax that can hold the style in place and prevent unruly frizz from transforming your cut from stylish to cringeworthy.
Advertisements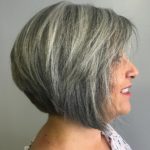 Advertisements
The angled bob creates a fresh, sprightly look that has a certain edge. Switch things up a bit by asking your stylist to angle the cut so that the hair is slightly longer at the front than it is at the back.
This will make your cheekbones appear higher and compliment your jaw. Do bear in mind that this isn't a look that will suit everyone; you need to have a strong jawline to carry it off.
Advertisements
Advertisements
Put the straighteners down… waves can be your best friend if you're aiming for a younger aesthetic.
If you're not blessed with natural waves, run your fingers through freshly curled hair to loosen the curls and create fabulous waves.
Advertisements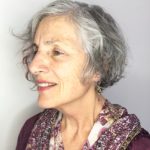 Advertisements
Don't shy away from something bold and different. Older women can really suit short styles that incorporate a lot of texture.
Short bobs scream confidence, sass, and strength. You go, girl!
Advertisements
13

Opt for a center parting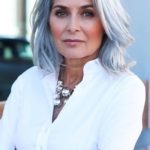 Advertisements
Sometimes we want to make a change in our hair and we are looking for an extreme transformation. However, this is not always necessary; a simple change can be enough!
While you'll frequently hear stylists refer to a center parting, the real knack to achieving a good look is to opt for a parting that is slightly off-centre because this is where your natural parting lies.
Advertisements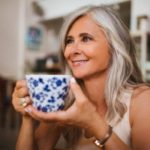 Advertisements
If your hair is going white, embrace what you've got and opt for a chic cooler tone blonde that is contrasted with darker undertones.
You simply can't go wrong with beach-blonde waves that incorporate soft layers.
Advertisements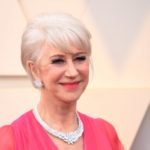 Advertisements
Add dimension to your hair by asking your stylist to incorporate lots of layers that complement your natural face shape.
For a bit of added pizazz, highlight some sections of your hair to lighten your features and create an illusion of body and movement.
Advertisements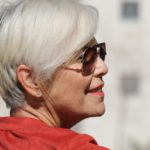 Advertisements
A simple crop can transform your appearance and make you look more youthful by eradicating all broken and wispy ends. Chose a cut that keeps the sides and back of your hair close to your face to craft a more finished look.
Ask your stylist to help you determine how much hair to leave on the top in accordance with your face shape and features.
Advertisements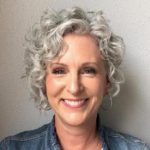 Advertisements
If you have curly hair, maintain light layers that are shaped around your face. Layers reduce the weight of your hair and can help to highlight the natural beauty of the curl. However, don't cut layers too short; doing so will make your face appear significantly wider.
Keep definition by using a wide-toothed comb to detangle your hair, and never play around with it while it is wet— that's a sure-fire way of transforming ringlets into frizz.
Advertisements