Athleisure brands to rock with or without your running shoes
Whether you are on your way to, coming back from or not at all going to exercise, look your best in these athleisure brands.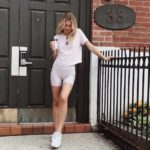 At the gym, on your way to selfie with the Hollywood sign or at the grocery store, the resting-athlete look is here to keep you comfortable in the best sports-meets-I'm-running-errands way possible. Here for when you rather stick to the casual part of casual chic while still looking good—and dare we say fashionable—these athleisure brands are here for you. Besides, no one will ever know you're reserving the athlete part of athleisure for a future you. After all, you are a busy sporty girl in need of coffee and girlfriend time and life goes on even if you're on a break with your jeans.
Advertisements
Outdoor Voices
Introducing what are arguably the best leggings ever created, OV's laid back and fresh activewear are specifically designed for—as they put it—doing things. Let us add that you will be looking good and feeling extremely comfortable while doing so. Take your dog out, stop for coffee and go to class in their stunning extensive line of "technical apparel for recreation." Outdoor Voices is made to be sweat-in, but also, and mostly, to be lived in. Outdoors, as much as possible.
Advertisements
Patagonia
Patagonia has been supplying silent sports enthusiasts—as opposed to motorized activity practitioners—for decades. But lately, more and more people have been sporting the environmentally and socially conscious brand on a chilly day. Addressed to climbers, skiers, snowboarders, fly fishermen, mountain bikers, trail runners and surfers, the distinct apparel is perfectly suited for any outdoor, and the occasional indoor, leisure time.
Advertisements
Nike
You might think that this is an obvious member of the athleisure brand realm, and this is exactly why it had to figure on the list. From kicks to leggings, to tracksuits and hoodies and bombers, the major brand has something for all your sporty comfort needs. Consequently, the best way to go full performance-sports-athleisure mode is by daring the brand head to toe. Commuting world-class athletes or fashion statement? No one will ever know.
Advertisements
Tna
Tna is Canadian brand Aritzia's exclusive sportswear line. The specialized brand is of the refined relaxed and loungewear category, so much so that it is only barely work-inappropriate. Tna might, in fact, be the definition of athleisure, as we highly doubt it was ever designed to exercise in. This is not to say that you can't be active in the thing. But rather that the more à la mode than functional pieces are an optimal option for when you are feeling the throwback look.
TLA by Morgan Stewart
Introducing LA cool meets HIIT brand TLA, the gym attire that's both your workout clothes and your post-sweat session changeup. The sportswear will let you go about your day in comfort and style. It seems influencer Morgan Stewart knows how to save on laundry by doing the whole wake up at 5, put on your gym clothes and don't hit the gym until 10 pm but still look fashionable thing, although we doubt she ever put it into practice.
PE Nation
Australian brand PE Nation is best described as streetwear and performance clothing's lovechild. The functional and well-thought activewear is as appropriate to sprint up the neighbourhood's stadium stairs as to run to the grocery store. The colour-rich designs with an old-school athletics feel shall feed your taste for fashion while sustaining your fast-paced urban life. PE Nation's game plan is to offer ultimate active streetwear, and we can say it's a win.
Kith
New York-born retail store Kith carries the best of streetwear, as well as its own multifunctional lifestyle brand. The latter is an undeniably sporty, yet inexplicably chic activewear line. The versatile progressive fashion-forward designs dress only the most daring. Kith's comfortable tracksuits, trendy dresses and biker shorts oozing class let you go from the basketball court to launch party or say Kith Treats in a heartbeat. Athleisure at its finest.
The North Face
The North Face has been dressing the sporties and the outdoor enthusiasts for more than 50 years. Perfect to adventure yourself into the wild just for fun or to push your limits, the brand allows you to hit the trails, the slopes or the backcountry in comfort and style. But don't relegate your gear to the closet until your next wilderness excursion. The North Face's recreational vibe will give an extra edge to your best lazy-day type of urban look.
Adidas
Up there next to Nike when it comes to top athleisure brands, Adidas has got the whole concept of comfort-meets-style covered. Not only can you get full resting-athlete by pairing some of its performance apparel with more casual pieces, but the Adidas Originals division specializes in comfy trendy pieces. And for the most refined and fashion-forward of them all, Stella McCartney for Adidas' environmentally friendly vegan line is a wardrobe must.
So there you have it, some of the best brands to chill, run around doing all the little things that need to get done or go about your regular schedule in comfort without sacrificing style. And although athleisure as a fashion trend might be leading way to more recent ones, the need for lazy sporty wear is an undying one.
---
Cover photo credit: @allegrashaw | Instagram