Belted swimsuits: The best ones to rule the beach
Next time you go to a pool party or to the beach, mix high fashion and beachwear with a belted swimsuit! They are super sophisticated and cute. Warning: Flood of compliments to come.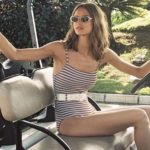 Shopping for beachwear is not something most women enjoy doing. Terrible lighting, pale and hairy legs, winter body, it is nobody's greatest moment. But, if you want to buy yourself a cute swimsuit for your next vacation to the Bahamas or Capri or for your beachside residency in your hometown, you need to go through this step. Whether you prefer a bikini or a one-piece suit, belted swimsuits, which are incredibly trendy, slimming, alluring, glam and flattering are the bathing suit of the season. Shop these sporty, low cut, asymmetrical, high cut suits that will make you feel and look your best.
Advertisements
Seafolly Australia
Advertisements
Montce Swim
Advertisements
Solid and Striped
Advertisements
Solid and Striped
Vitamin A
Aerie
Vitamin A
Onia
Hunza G
Roxana Salehoun
Jade Swim
Zimmermann
Montce Swim
Get out of the AC and enjoy the sunrays poolside in your new belted swimsuit! As you can see, there are tons of options no matter your style. Belted swimsuits are versatile and incredibly flattering since they cinch your waist. Make a splash this summer ladies!
---
Cover photo: @solidandstriped | Instagram