The best blush to complement your skin tone to a T
Blush is your friend, as long as you pick the right tint.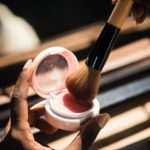 A little bit makes your makeup look youthful and fresh but too much automatically make you look like a clown or your 80s obsessed great-aunt. Blush, if worn with moderation, can really brighten your whole face with the flick of a brush. But how exactly do you choose the right blush when there are about fifty options to pick from? It all depends on your skin tone. Fair-skinned women won't be looking for the same colour blushes as medium or deep coloured women. Ladies, here's your guide to picking the best blush for a cheeky look.
Advertisements
Universal blush colours
Nars Orgasm blush
An award-winning blush that has won the hearts of makeup artists, beauty journalists and makeup amateurs alike, Orgasm by NARS looks good on everyone. This peachy pink has a golden shimmer finish that attracts light to create a beautiful complexion. No wonder it's the best selling blush in the U.S.
Laura Mercier Blush Colour Infusion
Makeup artists at fashion shows love to use Laura Mercier's Blush Colour Infusion in Rose because it looks great on every skin tone, it's long-lasting and has a buildable colour that blends into the skin perfectly.
Advertisements
Deep skin
Intensely rich and pigmented colours are the way to go for deep skin tones. A bold red like Lilah B.'s Divine Duo Lip & Cheek in B. Fearless is a perfect colour. Lighter colours will make your skin look ashy and dark colours (burgundy and plum for example) will make your skin looked bruised.
Advertisements
Dark skin
For dark-skinned women, orange-red blushes with shimmer will make the skin glow. Clinique's blush in Pop Cola has that brick-inspired colour that will warm up your skin and illuminate it too.
Advertisements
Medium skin
A dark and rich pink like a mauve or a berry colour will look great against olive or other medium skin tones especially if it has shimmer in it. Peach coloured blushes also work if you prefer keeping your makeup more subtle. Purple Tulip from Burberry's Lip & Cheek Bloom collection will give you that "I just got back from the gym fluster" without the sweaty mess.
Light skin
Something with shimmer and iridescence will brighten your whole face and give you that lit from within glow we all look crave. Buxom's Wanderlust Primer-Infused Blush in Dolly is the perfect match.
Fair skin
Fair-skinned ladies need to be careful when applying blush and need to keep this mantra in mind: A little goes a (very) long way. Peach and baby pink are your best bet because they add a warmness to your skin that looks very natural. Bobbi Brown's blush in Apricot or Pretty Pink will give you a soft glow with a matte finish.
Cream, powder, liquid or stick, that is the question
It all depends on your skin type. Those with oily skin will prefer to use powder formulas since they won't add shine and lustre to your skin. Use a fluffy brush to add just a bit of the product in upward motions on your cheeks. On the one hand, if you live something very humid, forget about using powders since it can make your makeup look cakey. Dry skin and warm, humid environments will do better with a liquid or stick formula and create a dewier, more natural look. Cream blush formulas work well with both dry and oily skin and are easy to blend to create a bright, fresh look.
The best blush for your skin tone shouldn't be chosen based on whether or not you like the colour when you see it in store. The undertones of the blush need to match your complexion or else your face can look ashy, red or even bruised. Don't be scared of blush, use it… but with finesse.
---
Cover photo: rawpixel.com | Pexels