The best LED nail lamps for a beautiful manicure at home
For a long time, if we wanted a professional manicure, we had to go to the salon. Now though, thanks to LED lamps, we can get similar results at home.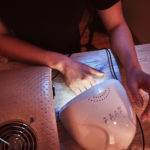 A beautiful gel manicure, done at home and durable? Yes, that's possible, thanks to LED nail lamps. These innovative lamps help to dry nails quickly using a polymerization process, thus guaranteeing durability. Here's our selection of the best LED nail lamps. We chose them because they were user-friendly, powerful and spacious.
Now the only thing missing to have perfect nails at home is your creativity!
Advertisements
LED USpicy Nail Lamp
This 12-watt nail lamp gets the job done in no time. We appreciate its compact, curvy design, spacious enough for our hand. It has four different drying settings: infinite, 30, 60 or 90 seconds. Moreover, the life of the LED lamp itself would be of 50,000 hours.
Advertisements
LED NailStar Lamp
First, we'll say that this is a professional LED lamp, but it can also be used at home. Its estimated life is of 5 years, and it offers the same four drying settings as the USpicy. The translucid design of this lamp is quite charming, and it is spacious enough to dry a hand or a foot.
Advertisements
LED MelodySusie Violetili Lamp
Here's another 12-watt lamp. Again, it features drying settings of 30, 60 and 90 seconds and starts as soon as you insert your hand in it. We like the futuristic look, especially the black version, but that's up to your taste.
Advertisements
CCFL-LED Curing Light Lamp
This lamp is probably the best thing when it comes to manicures. It has 12 LED lamps and one CCFL lamp. CCFL means Cold Cathode Fluorescent Lamp, which is a type of lamp producing UV rays with a minimum of heat. The association of the two technologies means a perfect result for shiny, solid and bright nails. The lamp comes with a special stand for pedicures.
With a good LED lamp, your nails will shine as if you had gone to a professional beauty parlour and, in addition to having a good look, you won't have to redo your nails every few days. You save on nail polish and on beautician! If that isn't great, what is?