Essential fashion items for road trips to cross Atlantic adventures
Packing for a trip is fun for some and a nightmare for others. If it's done last minute, a lot of unpractical clothes can end up in your suitcase. If you're the worst packer, fear not, we've got a list of all the essential fashion items you should pack on any trip.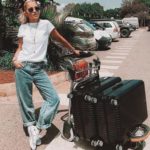 Flying off somewhere for a well deserved holiday is one of the best feelings in the world. Exploring new cities, tasting delicious new flavours, meeting the locals, everything you see and do is exciting and new and you can unplug completely for a few days or even a month! One of the annoying parts of travelling certainly has to be the pre-trip packing. You want to look cute abroad but you also want to pack lightly so you can bring back souvenirs and not break your back carrying your backpack or suitcase around. There are certain items that should always be in your suitcase, no matter how long or the location of your destination. These essential fashion items range from basic t-shirts for the day to comfortable heels to dance all night long.
Advertisements
Clothes
You obviously need clothes on your trip but you don't want to bring just anything with you. Basics like t-shirts, jeans, sweaters and a few fun pieces are enough. Pack your favourite pair of jeans you know you can wear with anything and the same goes for your tops. If you have time, plan some outfits so you're sure you maximize your outfit options.
Basic t-shirt
Jeans
Sweater
Dress
Light jacket
Advertisements
Shoes
Vacations often mean you'll be walking a lot, whether it is in a city or a forest. You need a great pair of sneakers. Good news! Sneakers are no longer fashion piranhas only worn by your seriously unfashionable dad or 80 year old aunt. Brands like Reebok, Nike, Adidas and Superga have made sneakers cool again. However, if you are planning on going out on the town, we suggest you also pack a pair of comfortable heels or strappy flats for your fun nights out on the town.
Sneakers
Heels (you can walk in)
Advertisements
Accessories
Accessories are also a must. A big scarf will keep you warm on the plane (let's face it, planes are always cold) and on cooler days, a cheap pair of sunglasses will keep you from squinting (and to hide your tired eyes after a long night out), a bag to store your wallet, keys and other necessities and some cute but inexpensive jewellery. These accessories don't take much space in your suitcase since you can wear them on you throughout your trip!
Scarf
Sunglasses
Jewellery (that you wouldn't mind losing)
Bag
When it's 1 a.m. and your cab is arriving in a few hours, you'll be happy to have this short list of essential fashion items to pack. Packing can be easy, if you are smart about it. Don't bring a t-shirt that only looks nice with a certain pair of jeans. Pack classic and easy pieces that can be easily mixed and matched like black and white t-shirts, blue and black denim, a simple and comfortable dress that can be worn day and night, a light jacket and oversized scarf for chilly evenings, etc. Mentally creating a few outfit ideas before stuffing everything in your suitcase is also clever! Share this list with your friends so they don't have to borrow your one white t-shirt when they are tired of wearing their bright fuschia and sparkly shirt!
---
Cover photo: @carodaur | Instagram