Face shape: Here are the best haircuts to suit your face
Chop chop! Time to cut your hair! Get inspired by these celebrity haircuts and choose the best cut that suits your face shape.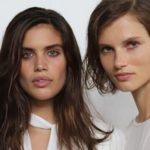 You are ready to cut your hair but you're not sure what you want to do? Layers? A bob? A lob? Bangs? A pixie? There are so many different cuts to choose from. Where can you find the best inspiration to find the perfect cut? Oftentimes, looking through pictures of your favourite celebrities can help. However, as you probably know, not everyone has the same face shape. Some have a heart-shaped face while others have more of a square-shaped face. Find the perfect haircut to suit your face shape with these celebrity-inspired photos.
Advertisements
Round
Women will have a softer jawline and facial dimensions as wide as they are long (like a circle!). The widest part of the face is the middle, which means that women should choose lengthening haircuts and not short and voluminous ones. Your celebrity hair muses: Selena Gomez, Jennifer Lawrence, Miranda Kerr, Gigi Hadid.
Long layers
If you love a center part but you've been told they don't suit round faces, we've got a solution for you. Long layers, as seen on Selena Gomez, will complement rounder faces. Make sure you ask your hairdresser to start the layers at your jaw and to cut the layers at an angle for more movement. The layers will also help your ends look less voluminous.
Bob
A piecey bob looks great on a round face. The more movement in the hair, the better. Jennifer Lawrence's bob is very flattering because she hasn't styled it in a perfect way.  The fact that her cut is intentionally mussed adds softness and makes the hair look thicker than it is.
Advertisements
Oval
Oval faces are the most versatile face shape out there. Women have an oval face if their face is longer than it is wide. Usually, the cheekbones will be the widest part of the face but will be equal to your forehead and jaw. Your celebrity hair muses: Jessica Alba, Bella Hadid, Charlize Theron, Kate Middleton.
Deep center part
Women with oval faces and shoulder length or longer hair look best with a centre part. However, a centre part can elongate the face too much when your hair is long so it is best to add soft waves when styling them so the hair doesn't fall too bluntly.
Mid-length with layers
Shoulder length hair is very flattering. If you have an oval face and thin hair, this cut will help add volume and create an illusion of thicker hair.
Advertisements
Heart
Heart-shaped faces tend to have their forehead as the widest part of their face and a pointed chin. Your celebrity hair muses: Reese Witherspoon, Kerry Washington, Scarlett Johansson, Amanda Seyfried.
Short with bangs
If you're not a fan of your forehead then this is the perfect haircut for you. Heart-shaped faces look great with bangs and with hair that goes just below the jaw since it makes the jaw look wider than it is (creating less of a reverse triangle shape). Adding volume will help soften that jaw even more.
Deep-parted and long
Reese Witherspoon is the ultimate heart-shaped face woman. Her deep side-part makes her forehead look smaller and her long, straight locks draw the eye away from her more prominent chin. In other words, this haircut adds more balance to her face.
Advertisements
Square
Women with square-shaped faces have a forehead and jaw of the same width. The jaw is strong and angular and women with square-shaped faces usually are very photogenic. Your celebrity hair muses: Lily Aldridge, Keira Knightley, Olivia Wilde, Angelina Jolie.
Wavy and long
Long hair looks great on square faces but long hair with a bit of a wave looks even better. Try to make your waves start under your ears to soften your jawline.
Choppy bob with deep side part
Olivia Wilde's side swept bangs and thinned-out bob works because of her strong jaw. The side bangs soften her face, focus the attention on her cheekbones and not her razor-sharp jawline.
Getting a haircut can be therapeutic, exciting or even impulsive but just remember to think about your face shape before you get in the salon chair. Now that you have celebrity hair inspirations, you'll look amazing every time you step out of the salon.
---
Cover photo credit : @hairbysammcknight | Instagram