The best hot yoga clothes for your weekly practice
Stay as cool (as you possibly can) during your Bikram yoga class with the best hot yoga clothes out there!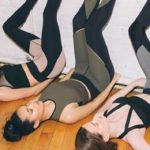 Any workout will make you sweat, which means you need the proper apparel to ensure you don't overheat and feel uncomfortable while exercising. Natural fabrics like bamboo and TENCEL are light, breathable and moisture-wicking while synthetic materials like nylon, spandex, polypropylene and polyester ensure you can stretch your body in every way shape or form, are durable and also non-absorbent (meaning, they keep sweat off you).
If you're attending your first Bikram yoga (hot yoga) class, don't expect to go there in your normal yoga gear. Hot yoga classes are set to 100° F. You step into the room and are welcomed with a wave of humidity while beads of sweat start to form in your back as soon as you start your flow. So, what are the best hot yoga clothes for this type of sweat-inducing activity? Hint: The less you wear, the better!
Advertisements
Tank top and leggings combo
Not everyone feels super comfortable exposing most of their skin during a workout class, especially one that involves twists and dips. If you want to keep your legs and mid-section covered, opt for a breathable, sweat-wicking and stretchy pair of 3/4 or 7/8 leggings and a body-hugging camisole. Although leggings can seem extremely warm, they do prevent from slipping incidents that could occur during the tree pose, for example. Stick to light colours to avoid sweating more than you should since black and dark colours attract heat.
Advertisements
Leggings and bra combo
If you don't mind exposing a bit more skin, a pair of high waisted leggings (who wears low waisted bottoms, anyway?) and a sporty cropped top or bra will do the trick. Just make sure you are getting enough support for the ladies!
Advertisements
Tank and shorts combo
The tank and shorts combo is another great option for the Bikram-practicing yogis out there. The tank will cover your tummy and the high-waisted booty shorts will keep you cool throughout your practice. Bring a sweat-wicking hand towel to dry your legs if they start getting sweaty.
Advertisements
Bra and shorts combo
Sweaty Bettys will love the bra and shorts combo. This duo will keep you cool all practice long. The longer shorts are ideal for those who want to concentrate on their breathing and stretches instead of thinking about booty shorts riding up in unwanted places. Super cute, comfortable and practical, we wouldn't mind wearing this outfit for a post-yoga smoothie in the summer.
Where can you get the best hot yoga clothes?
We recommend brands like Lululemon, Lole, Onzie, FP Movement by Free People, Outdoor Voices and the usual workout gear suspects like Nike, Adidas, Reebok and Under Armour. Check the tags, they are the answer!
These sweat-proof Bikram yoga outfits will keep you comfortable and flexible during your most intense sessions. It is important you wear whatever you feel most comfortable in but remember that body-hugging clothing made in fabrics like bamboo, polyester and spandex are the best option. Now, how about a slip-proof yoga mat?
---
Cover photo: @michi_ny | Instagram