Top inspiring Halloween makeup ideas
October 31st is the perfect occasion to let your creativity run wild. Here are 15 inspiring Halloween makeup ideas to try for your next party!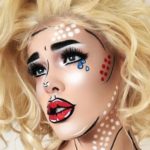 The month of October is not only loved for its cool and crisp temperature, its abundance of fall colours but also, of course, for Halloween. Young and old enjoy this holiday for a number of reasons, but people especially enjoy it for its creative aspect. Indeed, it's the perfect occasion to dress up and paint our face in any which way we like. If you're out of ideas, here are a few trendy and inspiring Halloween makeup ideas to browse. These options should help you create a very original look for the 31st of October.
Advertisements
Copy Ariana Grande's look
Ariana Grande, the American Pop and R&B singer-songwriter-composer, released a video clip where she lays in a purplish and blueish liquid. We can see, in God is a woman, the singer's skin partly covered by pastel colours. It is possible to recreate this colourful look with bath bombs or pastel paint. The best part? This makeup won't be too hard to remove after your fun night out.
Advertisements
Create your own version of Shuri from Black Panther
You're a fan of Marvel movies, particularly Black Panther? You can recreate Shuri's look without too much effort nor makeup products!
Advertisements
Save the world in your own way
L'Halloween is the perfect occasion to whip out your Superwoman costume, especially if you're an everyday hero! Why not match your costume with red, white and gold makeup? This will complement your costume and the best part is that this look is extremely easy to create!
Advertisements
Relive the 90s
You can relive the 90s by switching from a traditional leopard costume to a more colourful and vibrant feline look. There is no doubt that you will turn heads with this very original Halloween makeup. However, you might need 5-6 makeup wipes to remove everything after your party is over.
Be one with autumn
Fall is quite an inspiring season. In fact, you can even disguise yourself as fall for Halloween. Just paint a few leaves on your cheeks and add some dark lipstick. That's all you need!
Transform yourself into Wednesday Addams
You probably know Wednesday Addams from the hit 90s movie The Addams Family. This is the perfect costume and makeup to adopt, especially if you don't want to invest too much in your Halloween costume.
Dress up as a deer
Deers are not only beautiful animals but they are also a great Halloween costume idea. You can apply some eyeliner, recreate their cute nose and add a few white dots on your face and Bambi might think you're his mother.
Make people smile by becoming a Snapchat filter
Do you have the photo and video app Snapchat on your phone? This is a makeup you will surely love to recreate. You can recreate whichever Snapchat filter you like. The hardest thing to do will be choosing between all of them!
Transform yourself into the Queen of Hearts
You can easily recreate Tim Burton's famous Queen of Hearts from Alice in Wonderland. This look, which is very easy to master, will transform you into the star of the party!
Opt for the David Bowie look
Everyone knows David Bowie, the famous British singer who marked a whole generation with songs like Fame and who covered half his face with a red and blue thunderbolt. Why not reproduce his look with a little makeup? Simple and efficient!
Become a living pop art artwork
If you are skilled with makeup, you can always try to transform yourself into a living pop art artwork, an artistic movement that started in the 50s. You are probably familiar with the works of Andy Warhol. You will certainly not go unnoticed!
Become Cleopatra, nothing less!
Choosing Cleopatra's make-up and disguise remains a classic, year after year. You are sure you are not mistaken in choosing this choice and it does not require much talent in make-up, especially if you already use eyeliner. This classic Halloween makeup idea is always a hit.
Cove your face with bats
Why not change the traditional Batman mask by drawing little bats on your face? This obviously requires a little more attention to detail, but you will be much more original with this type of Halloween makeup!
There are tons of Halloween makeup ideas. All you need is the right products, a little time and inspiration to look great on October 31st. Don't be afraid to be creative and dare; after all, this day is made for that!
---
Cover photo: Instagram @angelinalovelace