Manicure: 15 colours to choose during the winter season!
Just because you wear gloves in the winter doesn't mean you have to give up on your nails. Here are 15 winter nail colours to adopt immediately.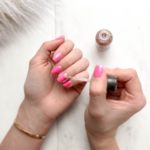 Summer is the ideal time to have manicures and pedicures. After all, we often wear sandals and our hands are not hidden in huge gloves, as is the case in winter! However, it is nice to take the time to get a manicure, especially during the winter season. You can apply a beautiful colour to your nails and sit in front of a TV series, under a duvet, while your nail polish dries or take a nice bubble bath, and paint your nails with a trendy shade while you relax. If you want to have a trendy manicure during the winter season, here are some splendid winter nail colours to try.
Advertisements
Cover your nails with gold
Metallic colours will be extremely trendy this winter. Feel free to cover your nails with a beautiful golden hue, especially if you have a special evening like a happy hour or a date. This manicure will definitely add punch to any outfit.
Advertisements
Opt for silver
If you don't like gold, you should know that silver will also be very trendy this winter. So you can colour your nails with a pretty nail polish of this colour and dazzle the people around you with a dark outfit that highlights your nails.
Advertisements
Showcase your passion for wine
If you are a wine enthusiast, why not show off your passion for this drink by choosing a burgundy coloured nail polish? This deep red, which is very elegant, will perfectly match a dark red lipstick and will be perfect for both day and night.
Advertisements
Let yourself be tempted by dark purple
While the summer season is ideal for light colours, the winter season is ideal for slightly darker colours. So you can coat your nails with a deep purple and choose a slightly shimmering nail polish for the holidays or when going out with friends.
Try a winter mauve
Another colour to try, still in the purple palette, is a winter mauve. It is actually a purple mixed with a shade of grey, which gives it a perfect look to adopt when everything outside is covered with snow. Neither too dark nor too light, this colour will enhance all of your grey sweaters.
See the world through peach tinted glasses
Although peach is more suitable for hot seasons such as spring and summer, nothing prevents you from choosing this soft and delicate shade for your manicure, especially if you suffer from seasonal depression. This can be a great alternative to the classic nude or pale pink that we all too often tend to adopt.
Wear emerald
You probably have accessories as well as emerald pieces of clothing. There's nothing surprising about that; it's one of the hottest colours this season! Why not add a nail polish of this shade to your beauty collection? This will allow you to coordinate your pretty green handbag with your manicure. Lovely!
Stick with the classics
Red nail polish remains a classic. This colour is not only elegant but also makes it possible to give brilliance to any outfit. Make sure you always have this shade handy.
Sparkle right up to your fingertips
Glitter is not only trendy in beauty products, but also in nail polish. You can, therefore, apply a colour of your choice to your nails and add a layer of glitter on top. This is a look to adopt for festive and dance-filled evenings.
Try a dark blue winter nail colour
Dark blue is a flattering colour, whether on your clothes, accessories or nails. This shade will look great on you, especially during the winter season. Try to get a nail polish of this colour, at the risk of becoming addicted to it!
Keep things minimal
Black nail polish is not only sober and chic, but it is also always classic. This shade also has the advantage of being easy to coordinate with any garment or accessory. You can add a layer of glitter nail polish to give your manicure a festive look.
Choose simplicity with a nude colour
Nude remains an essential colour in both summer and winter. If you don't like bright or bold colours, choose this delicate all-purpose shade. It will highlight your simplicity and natural beauty. You can easily get this pretty colour from several brands, like Essie, O.P.I, Chanel or Tom Ford.
Blend in with grey
One might think that grey lacks personality, yet it is quite the opposite! During the winter season, grey nail polish is available in several shades and can be juxtaposed with other colours when it comes to nail art. This is undoubtedly a colour to have in your nail polish collection.
Indulge your love of cappuccino
During the winter season, do not hesitate to paint your nails with a cappuccino coloured nail polish. Any taupe-coloured nail polish will do. Let's bet that this colour will warm you up or, at least, make you want to drink a good mocha or hot chocolate by a roaring fire!
Make heads turn with a neon green!
Are you not interested in discreet colours? Why not try a neon-green nail polish? This colour will add to your look and will undoubtedly attract attention to your sublime hands.
Whether you have a more discreet or flamboyant style, you should be able to create a lovely manicure with the help of these 15 trendy winter nail colours mentioned above. You can also combine them to make nail art. In any case, don't hesitate to let your creativity flow with these sublime shades.
---
Cover photo: Photo by Element5 Digital on Unsplash