Microblading: everything you need to know about the trend
No more brow pencils. Microblading could be the solution to save time in the morning and improve your look.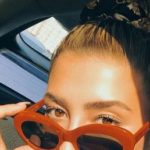 Thank God, ultra-thin eyebrows are now just a painful memory. Unfortunately, some who have experienced this sad time have retained some of the sequelae and tweezer compulsion is not a disease that only affects people 25 years of age and over. Whether you suffer from a dependency to tweezers, whether the beauty trend of your high school years has marked your face with hairless holes or whether you simply don't feel very well cared for on the eyebrow side, microblading can be the solution you are looking for. Here's everything you need to know about the miracle technique for flawless eyebrows.
Advertisements
What is microblading?
Microblading is a semi-permanent make-up technique that aims to perfect or completely rebuild the eyebrow. Carried out by a salon technician, the method involves the use of micro-needles that deposit the pigment in the upper layer of the epidermis in order to draw the hairs according to the ideal structure of the eyebrow, which has been traced by your technician and approved by you.
Advertisements
Advantages of using the microblading
No more brow pencils, inequalities, holes and dubious shapes. Your eyebrows will be drawn by a professional according to the shape of your face. Microblading takes about 3 years to completely fade and requires touch-up only once a year.
Advertisements
Disadvantages of the microblading
The procedure requires between 7 and 10 days to heal on the surface and although the effect is instantaneous, the final result will only be observed after 3 to 4 weeks. Of course, if you are afraid of needles or have very low pain tolerance, even with the use of an analgesic cream, this solution for flawless eyebrows is not for you.
Advertisements
Finding a salon near you
Since this method is semi-permanent, it is essential to shop well. To do this, Instagram and the Internet are your best friends. Look at several before and after photos, ask questions and make sure you trust your specialist completely before you sit in their chair, but above all, check that the place is clean and the methods, sanitary.
---
Cover photo: @michellesalasb | Instagram