Prettiest holiday makeup looks that will make you stand out
Love makeup but lacking inspiration? Create these pretty holiday makeup looks for your next party. You are sure to turn heads!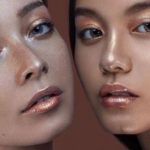 The holidays are the most wonderful time of the year (cue the music!). You get to see your family and friends, eat delicious food, drink some champagne and dress up! However, the holidays can get very expensive since you have to buy hostess gifts, travel long distances by train or plane and shop for the right outfits to wear to all your parties. If you love makeup and you are looking for a way to save some money, we suggest you only shop for one or two black cocktail dresses and let your makeup be the highlight of your look. No one will notice you're wearing the same dress if you have a different killer holiday makeup look for every party. Bring on the glitter, fake eyelashes, creamy eyeshadows and shiny lip gloss and let your imagination run wild!
Advertisements
Fairy dust
This pinky nude monochromatic look will look perfect for a holiday brunch with your best friends or for an early dinner with your extended family. You can easily recreate this look by applying a light foundation, brushing and filling in your eyebrows, blending some pink and gold eyeshadows to create this gorgeous eyeshadow colour and adding a matching pink lipstick on your lips. This look is not too wild so it will look appropriate during the day or when you're with your grandmother who doesn't have a clue what strobing is.
Advertisements
Sultry holly
A red lip always looks great because it instantly elevates any outfit and it is quite low maintenance. Apply your foundation and make sure you blend it to perfection. Then, brush and fill in your eyebrows, hide your dark circles from the night before with concealer and add a bit of bronzing powder to accentuate your cheekbones. Now, for the lips! First, make sure they are hydrated. There is nothing worse than chapped lips! Dab the excess lip balm off with a kleenex, line your lips with either a transparent or matching lip pencil and then apply your fiercest and boldest red lipstick. Make sure you reapply every few hours or after you finish a glass of champagne.
Advertisements
Carribean vixen
Bring the heat to the party with this Caribbean holiday inspired look. Fenty Beauty's rosy gold sunset makeup will be a hit at any evening get-together. The exaggerated blush is bold but feasible. Apply your foundation, brush and fill in your eyebrows, create that purple, gold, orange and pink smoky eye and eyeliner then go wild with your deep coral blush to create this tropical holiday makeup look. Don't forget to add a metallic lipstick to complete the look.
Advertisements
Merry and bright
Subtle and natural, this glowy makeup will be a hit at your office party or mid-day get together. The soft shimmer on the lids, fine black liner and mascara add just the right amount of playfulness. Opt for a tinted moisturizer, bronzer and highlighter trio to create a subtle dewy glow. Don't forget to finish the look with a nude lip gloss. This easy look can be rapidly applied for a last-minute invitation or a late wake-up.
Winter heat
This sultry and warm holiday makeup will be your go-to look for all your fancy dinners. It requires a lot of bronzing powder, a full-coverage foundation and some lustrous highlighter. After you've brushed and filled in your eyebrows, create the earthy smoky eye, add some black liner and a few coats of mascara. For your lipstick, pick a metallic cherry red to match the earthy tones of the smoky eye. As a final touch, add some shimmering body oil on your chest and shoulders.
Shining star
The holidays are the perfect time to try fake eyelashes. They add drama, length, volume and fun to any look. Since you're emphasizing your eyes, you can keep the rest of your face natural. This look only requires a colour correcting foundation, some brow gel and a clear gloss for your lips. Warning! Don't apply your fake eyelashes after a few glasses of wine. Take your time and read the instructions properly. After you've applied them, line your under eye with a bronze coloured eyeshadow as shown above for a pop of colour.
Naughty and nice
A sexy wine coloured pout, a shimmering smoky eye and a flawless complexion creates the holiday party look of all holiday party looks! If you're a makeup genius then this look shouldn't be too difficult to recreate but if you're new to this, we recommend you practice a few times before. Cocktail party, New Year's Eve festivities, whatever the occasion you will steal the show. All you need is a shimmery eyeshadow palette, a purple-wine coloured lipstick and tons of mascara.
Jade mistletoe
Make your friends green with envy with this stunning and regal eyeshadow look. Apply your foundation, conceal those bags under your eyes, add some bronzer, a shimmering blush and tons of highlighter. Create this magical jade cat eye with your creamiest and most sparkly eyeshadow but make sure you apply an eyeshadow primer before you apply your eyeshadow so doesn't budge. Line your lash line with black eyeliner and add mascara to complete the look. Keep your lipstick a neutral shade to emphasize your gorgeous jade eyes.
Frosty and bright
Fake a gorgeous summer tan with this alluring and glowy look. For this makeup to look good you need to start by prepping your skin so it looks perfect. Use a brush to apply your foundation on your face and neck and hide any imperfections with concealer. Apply bronzer all over your face but go in a room where there is a lot of natural light so you can blend it properly and then a pink blush on your cheekbones. Brush and fill in your eyebrows and then apply a liquid shimmering eyeshadow to create this frosty eye look. Blend it with a darker, more neutral colour, add mascara and a gloss to complete the look. This look will turn heads at your new year's eve party.
Pink flush sugarplum
Love the "I just went skiing in the Swiss Alps and that's why my cheeks are effortlessly rosy" look? Fake it by applying tons of blush! Keep your makeup minimal but make sure your complexion is flawless. Brush and fill in your eyebrows, apply a few coats of mascara and then apply a pink blush on your cheekbones and eyelids. This will really illuminate your face and add that rosy glow. Finalize the look with a glossy raspberry red lipstick. A perfect day look to fake a full night of sleep.
Sparkling icicles
We love the silver flick! What a unique take on the classic cat eye. You can easily recreate this look by applying a liquid foundation, a bit of blush and highlighter on your cheekbones as well as a matte pink lipstick. For the eyes, choose the eyeliner formula that you are most comfortable with whether it is a pencil, gel or liquid liner. Create your cat eye with your silver eyeliner and then line your lash line with a black eyeliner. Add mascara, fill in your eyebrows, and you're done!  
Angel glow
The final look is softer and more subtle but still very beautiful. Simply apply a sparkly purple eyeshadow or blend your eyeliner from the middle of your lid to the end of your eye and add a bit under our eye. The rest of your face is simple to do: add some tinted moisturizer on any redness or blemishes on your face, add a few coats of mascara, brush and fill in your eyebrows, add a soft blush and apply a tinted lip balm that matches your blush.
From day celebrations to midnight kisses under the mistletoe, you have enough holiday makeup ideas to last from November to January. Makeup is fun and extremely creative so enjoy having fun with it and creating different looks instead of spending tons of money on holiday outfits.
---
Cover photo credit: sephora/Instagram