Rose water benefits: From soothing skin to flavourful dessert
Anti-inflammatory, soothing and delicious, these are just but a few of the many rose water benefits. Use this ingredient from your bathroom to your kitchen!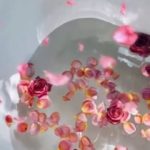 Favoured by the queen of Egypt Cleopatra more than two thousand years ago, rose water is still popular as ever. You can find it pretty much anywhere, from drugstores to high-end organic food and beauty stores. From the kitchen to the bedroom to the bathroom, this wonderful-smelling elixir can help your skin look better but it can also make your food taste better. Fall in love with the most romantic ingredient in the world and discover 10 great rose water benefits.
Advertisements
Skin/Hair
Anti-inflammatory
Because of its anti-inflammatory and antiseptic properties, rose water will help your irritated or acne prone skin look less red and give it that boost of hydration it desperately needs, especially in the cold winter months. You can use a cleanser or toner with rose water. Both will do wonders to your skin.
Softens your skin
Do your body and face get extremely dry during the cold months? Don't worry, you're not the only one who experiences this pesky annoyance. To fight dry skin and get envy-inducing hydrated legs, all you have to do is take a bath or shower and add some rose water. The rose water will automatically hydrate your skin and leave it looking smooth and soft. Either choose a rose water scrub or body wash (like the Herbivore Coco Rose Coconut Oil Body Polish above) or you can also apply a spray or cotton pad full of rose water on your skin after you've come out of the water.
Hydrates your skin
Give your body some extra care by applying rose water either before your normal body cream or apply something like Herbivore's Rose Quartz all over your body, which deeply hydrates the skin and leaves a beautiful glow.
Removes makeup
Use rose water, a natural, non-irritating and nice smelling ingredient, to remove your makeup daily with no fuss. Mix the rose oil with a bit of coconut oil to obtain a super hydrating makeup remove that will even remove the toughest waterproof mascara. This pure rose water from Chantecaille is a great option since it is formulated to purify the skin (without leaving it dull or dry) and giving a youthful appearance. Who could resist?
Hydrates your hair
Is your hair looking brittle and damaged, especially during the winter months? Give your hair a hydrating boost with Christophe Robin's entire rose water hair line. The rose water in the shampoo and conditioner will help hydrate your thirsty locks. If you like your current shampoo or you don't want to spend around $100 for hair care, you can always mix a few drops of rose water in your favourite shampoo for tight budgets who still want extra hydration.
Advertisements
Food
Cocktails
With rose petal infused vodka, strawberry syrup, vermouth, orange bitters and rose water, this refreshing and ritzy-looking cocktail will impress your guests and add a delicious floral touch to any Happy Hour. It might not be very proper nor sexy to talk about rose water's anti-inflammatory and antimicrobial properties but at least you'll know your concoction is kinda healthy. Rose water benefits both your body and mind!
Main dishes
You don't want your rose water to go to waste so add some in your cocktails to your main dishes like in this delicious raspberry-rosewater pork chops from The Jewels of New York. Even though it is extremely pretty to look at, know that it is also truly flavourful and tasty. What makes it so tasty? The rosewater, of course! The fatty pork chops go perfectly well with the floral taste of this special ingredient. Cooking with rose water has never been easier.
Desserts
You've used rose water in your cocktails and in your main dishes so it is now time to use it in your desserts too! Having a dinner party with gluten-free and vegan friends? Try Mei's Raspberry hibiscus rose water tart with pistachio crust. Your vegan and gluten-free friends will appreciate your thoughtfulness and your gluten and lactose loving friends will be surprised at how delicious your tart is. You could also try rose water ice cream or panna cotta infused with rose water!
Advertisements
Home
Linen mist
A linen spray is obviously not a commodity but if you feel like treating yourself to some luxurious TLC, choose the Frederic Malle Dans Mon Lit linen spray to make your sheets smell like heaven. You will fall asleep dreaming of fields of flowers, sunshine and summer and you will surely wake up rested and ready to take on your busy day.
Add it to your laundry
If you want your sheets to smell even more heavenly then go right to the source and add a bit of rose water directly into your washing machine. Your sheets, towels and clothes will be fragrant and automatically calm you. Like lavender, rose water destresses and makes you feel more calm and relaxed. A mini meditation at your fingertips! This is one of the easiest but luxurious rose water benefits you should know.
Easy to find, inexpensive and incredibly practical, rose water has tons of wonderful uses for you to explore. You will truly appreciate the hydrating and soothing properties of this beauty elixir but you will also really love the subtle taste it adds to your new favourite dishes and cocktails.
---
Cover photo credit: @petalandleafoils | Instagram