10 school bags for a stylish back to school look
Whether you prefer backpacks or tote bags, these school bags will help you transport your computer and various books in style.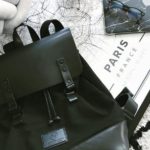 No one escapes it: the start of the school year is synonymous with studying, homework and workbooks to carry. Whether you're a minimalist, chic or the casual type, and whether you like to wear it on your back, shoulder or carry it on your arm, there's a bag that will suit your needs without sacrificing aesthetics. Here are 10 fashionable bags for a stylish back to school look.
Advertisements
Matt and Nat
You may have seen one of their popular backpacks on a classmate or on the street. These vegan leather bags offer a refined and sleek design as well as a durable quality garment. For a more professional look, choose a shoulder or handbag like the Hilton.
Advertisements
Gaston Luga
This Swedish brand makes stylish and practical backpacks with an urban look. Of course, your Gaston Luga will carry your schoolwork during the week, but your homework is likely to be replaced by what you need for a weekend getaway to New York and a summer holiday in Spain. Classic and timeless, you will use it long after your studies are over.
Advertisements
Eastpak
A pioneer in its field, Eastpak has been equipping the world since 1952. Originally a clothing and canvas accessories supply company for the army, Eastpak quickly became a major figure in the recreational backpack industry. Its simple design and retro yet timeless touch make it a smart choice for a youthful and changeable look. To get a bag that is even more unique and one of a kind, take a look at their many collaborations and special editions.
Advertisements
Chrisvanvenghel
Chrisvanvenghel, the lovely brand from the designer of the same name produces unique and simple bags perfect for both the romantic and the minimalist woman. This very nice model above is for the student who travels light and needs little more than a laptop. The bags are handmade in Amsterdam by the designer herself and sold on Etsy.
Stylenanda
Medical, law and literature students will be delighted to be able to carry their many books in style as the oversized accessory makes a comeback this season. The very large shopper bag offers a cool and casual look in addition to being hyper-practical. Find the one that suits you at Stylenanda or Baggu.
Invicta
For a colourful streetwear style bag, take a look at Invicta's Jolly bag. This original model with the vintage look of the brand once recognized for its mountain equipment is perfect for trendy sports fans and Call Me by Your Name lovers who are attentive to details. It is available in many different colour combinations like yellow and navy, orange and blue, orange and black.
Madewell
Lovers of the schoolgirl look, of the country-chic aesthetics and beautiful materials will love carrying books in one of Madewell's superb leather tote bags. Available in several colours, this one includes some practical pockets and a shoulder strap. It can, therefore, be worn in two ways. Its simple design and quality leather give a bohemian and elegant look.
Lo and Sons
The Lo and Sons Edgemont model is for utilitarian students who want to combine style and functionality. The classic, modern and well thought-out design of the brand's products make them a must to make your life easier when travelling, but also on a daily basis. The Edgemont bag, for example, is worn on the shoulder and back.
Vanook
The German brand offers simple and useful designs carefully crafted by hand with high-quality materials. Collections with a modern and sophisticated look evocative of a rustic aesthetic lend themselves just as well to a walk in the forest as to the journey between home and school.
Inga Skripka
Inga Skripka questions our definition of the banana bag with her own version of the banana bag. In a bright yellow which explains its name, this minimalist waterproof bag is sure to please art and avant-garde students. Find the unique creations of the daring Lithuanian designer online on Etsy.
Whether you're planning on being loaded like a mule or protect your back and hold your entire schoolwork on your laptop, these fashionable bags will allow you to commute with style.
---
Cover photo: gastonluga/Instagram