What is a Beauty Blender? How to use it and why pros love it
The Beauty Blender has taken over the beauty industry! There are many reasons why this small but mighty sponge is so popular.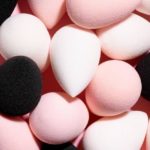 You've probably seen it at Sephora, you've probably seen it in makeup tutorial videos and you've probably seen it on social media. The Beauty Blender has earned itself the reputation of being THE tool to use to blend your makeup. What exactly is this sponge and how are you suppose to you use it? Find out below.
Advertisements
What is a beauty blender?
This little but mighty egg-shaped sponge is used to blend makeup, especially foundation, tinted moisturizer and concealer. Makeup artists and women all over the world love to use this tool since it makes makeup look like real skin and not a cakey makeup veil.
Advertisements
How to use it
Wet the Beauty Blender and then squeeze out the excess water. Wetting the sponge is an important step since it's the dampness that creates a seamless finish. Either apply your makeup directly on the sponge or apply it on your hand to have more control on how much product you apply on your face. Now, the fun part. Bounce the sponge around your face and gently press it in your skin. This technique is called stippling and ensures makeup looks flawless and most importantly, natural. Another great advantage of using this makeup sponge is that you don't need to use a lot of product to get good coverage.
When should you replace it?
If you use your Beauty Blender daily, toss it in the garbage after 3 months. If you start seeing tears and nicks on the surface, stubborn stains that don't go away even if you clean it religiously and you notice it's not as bouncy as before, it's time to get yourself a new one.
How to wash your Beauty Blender
You absolutely need to clean your Beauty Blender to keep it from harbouring bacteria and dirt, which could cause breakouts and skin irritations.
Wet your sponge
Squeeze some mild soap or shampoo on your sponge
Soak your sponge in a bowl filled with warm water while you squeeze it gently
Rinse your sponge and squeeze out any excess water
Dry on a clean towel
If you want to apply your makeup flawlessly, do like the pros and use a Beauty Blender!
---
Cover photo: @sephora | Instagram