Yoga skin: A makeup technique that mimics a post-yoga glow
Do you envy those women that come out of the yoga studio next door with glowing, radiant skin? Get a post-yoga glow sans yoga with the yoga skin makeup technique.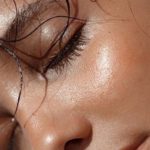 You might roll your eyes or sigh in exasperation that, yet again, another makeup technique that has taken the world and internet by storm. Who exactly created this glow from within makeup trend? Blame UK makeup artist Sara Hill for this new technique you now have to learn. But, unlike contouring, strobing and baking, this makeup method won't take you three bottles of foundation, 24 Youtube tutorials and a few fits of anger to master it. Easy and quick, your 'best skin ever' is just a few pumps and drops away.
Advertisements
What is yoga skin?
If you've never stepped foot in a yoga studio, you might wonder what all the fuss is about this 'post-yoga glow'. Unlike other makeup trends that want to create a perfect and flawless canvas, yoga skin is all about making your skin look natural, dewy and healthy. A bit of a flush and skin that looks like it's been well hydrated creates radiance.
Advertisements
How to achieve this makeup look
To create this look, you first need to apply your normal skincare products first. Sara suggests you leave it untouched for five minutes before you start applying your makeup. Add primer to your face and then create your 'skin mix'. Mix 3 pumps foundation with 1 drop of face oil, 1 drop of liquid illuminator, and 1 drop of glow drops. Women with dry skin can add a bit of moisturizer to the skin mix and those with oily skin can reduce the skincare percentages to have more makeup in their mix.
After you've concocted your tinted facial potion, massage it into your skin with your fingers and hands. It is important to apply the makeup with a certain pressure to get your blood flowing in your face. This pressure will create a natural flush (i.e. that glow you get after 15 downward facing dogs). If you need to cover dark circles or blemishes, add concealer to those areas. Try not to use any finishing powder so you can keep that dewy and glowy look.
Advertisements
Tips
If you already have very oily skin, this makeup technique might not be the best fit for you. You can always try it and see how your skin reacts to all this moisture and glow. Also, this technique works best on flawless and nourished skin that is free of blemishes. Remember, drink lots of water, eat well, wear SPF and take off your makeup at night.
Yoga skin is the answer to all your natural, makeup no-makeup fantasies. Don't be surprised if your friends ask you how your vinyasa class went but know that they don't need to know where that glowing complexion comes from.
---
Cover photo: @intothegloss | Instagram