10 All You Can Eat restaurants in the U.S. to satisfy your hunger
If you are planning a trip to the United States, here are some of the essentials to discover in the different states of this country. After all, the USA has much more to offer than its many fast food chains!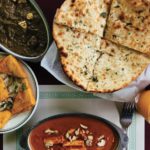 Many people prefer buffets and All You Can Eat restaurants than regular restaurants. There's nothing surprising about that: you can eat a lot without spending too much money. Another advantage is that you can enjoy more dishes, which is not as accessible in other types of restaurants unless you select a tapas or sharing menu. Buffets can, therefore, be tempting for many reasons. Since not all buffets have a good reputation, we have selected the best restaurants to choose in the United States. Whether you are a fan of seafood, meat, sushi, Indian or Mexican cuisine, you may well find a restaurant that meets your expectations in this list!
Advertisements
Bayleaf Authentic Indian Cuisine
To enjoy quality Indian cuisine, we suggest you visit Bayleaf Authentic Indian Cuisine located in Birmingham, Alabama. You will find a lunch buffet where traditional dishes will be served in a friendly atmosphere. You should also know that several vegetarian dishes are available so no one is left behind.
Advertisements
Pizza West
If you're in Kansas, especially Shawnee, you absolutely have to go to Pizza West, a very nice restaurant where you can eat a lot of pizza. We also like this All You Can Eat restaurant for the arcades inside the restaurant. Let's bet your children will appreciate them too!
Advertisements
Waldorf-Astoria
Real foodies will have a great time at the Waldorf-Astoria. This sumptuous hotel located in New York City on Park Avenue offers you the opportunity to enjoy a delicious buffet featuring a seafood bar (shrimp, clams, oysters and lobster are featured) and dishes such as roasted leg of lamb, fried fish and braised ribs. However, expect to spend about $100 on this gourmet All You Can Eat restaurant.
Advertisements
Pruller
In Marlborough, Massachusetts, there is Pruller's Restaurant, a place where you can satisfy your desire to eat exotic foods. Indeed, this All You Can Eat eatery offers you Brazilian cuisine cooked on the grill. One advantage of going there, in addition to the tasty dishes served, is that you can pay for your plates by weight.
Guaca Maya Mexican Restaurant
To satisfy your desire for traditional Mexican cuisine, Guaca Maya Mexican Restaurant is the place to go in Omaha. You can enjoy delicious tacos, enchiladas and churros in an atmosphere reminiscent of Central America.
Nordic Lodge
If you are one of those people who love seafood and filet mignon, you should go to Nordic Lodge in Charlestown. This restaurant, which also offers a buffet style menu, invites you to taste lobster, shrimp, oysters, chicken wings and filet mignon, among other things.
Gaia's Garden
Vegetarians are not to be overlooked. They can also eat a meal at Gaia's Garden vegetarian buffet in Santa Rosa, California. The menu includes several healthy and tasty choices, such as enchiladas, stuffed cabbage, lasagna, coconut tofu and quiche. To add to your bucket list!
The Borgata Buffet
The Borgata Buffet is also to be discovered if you are in Atlantic City, New Jersey. Located inside the splendid casino and hotel Borgata, this buffet will delight you with the quality of its dishes. You will find a wide variety of dishes, including ribs of beef, beer braised pork, clams, salmon, sushi and an impressive assortment of desserts.
The Buffet at Wynn
To enjoy another gastronomic experience while going to an All You Can Eat restaurant, we suggest The Buffet at Wynn in Las Vegas. This restaurant, with its sublime decor, flowers and chic furniture, invites you to taste the food at 15 different cooking stations. Note for those with a sweet tooth: The Buffet at the Wynn has a chocolate fountain and several delicious pastries. This is definitely a restaurant to go to if you are in the area!
King Buffet
The King Buffet in Los Angeles is an All You Can Eat restaurant to discover. It allows you to eat a wide variety of food at a very affordable price. Whether you like seafood, Chinese dishes, sushi or meat, you are sure to find something to your liking!
It must be said that All You Can Eat restaurants are very popular in the United States. Contrary to what many people think, these are not low-end restaurants where simple buffets are served. Indeed, more and more hotels are investing in All You Can Eat places and are thus ranking among gourmet restaurants. Not only are there sushi buffets, but also breakfast, lunch and even pancake buffets!