10 of the best kebab places in Paris for a late-night snack
To calm a craving or help prevent a bad hangover, these excellent Kebab places in Paris are always ready to feed the night owls.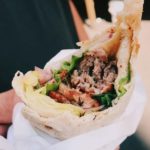 The kebab is to the Parisian what the poutine is to the Quebecer: one finds it at every street corner, it is deliciously comforting and it tastes even better after a night out in a bar or club. Although delicious addresses flood the capital, only some of them remain open until the wee hours of the morning. Here are 10 of the best kebab places in Paris for a perfect snack after a great evening of fun.
Advertisements
Urfa Dürüm
The renowned Urfa Dürüm serves traditional Kurdish sandwiches on Rue du Faubourg Saint-Denis until 11 pm every day except Sundays. With its stone wall, its brick counter, its iconic tiling and its predominantly wood decor, this small room has everything of an authentic Middle Eastern sandwich shop. The delicious dürüm bread is baked in front of us, the filling is fresh and the place is a connoisseur's favourite.
Advertisements
OUR
With its three branches in Paris, OUR supplies night owls with gourmet kebabs until 11 pm in the 8th, 10th and 11th arrondissements. The restaurants offer a revisited gastronomic approach that is almost chic and almost healthy of the famous kebab in a modern and stylish decor. They also deliver and even have their own food truck.
Advertisements
Zarma
Zarma the bohème is located in the Pigalle neighbourhood and also takes the form of a charming canteen on the Stalingrad Terrace in the summertime. We eat gourmet Mediterranean street food overflowing with fresh and colourful garnishes in their eclectic and festive premises until 11 p.m. and until midnight on the terrace every day of the week. You can also find them at the Parisian Omnivore District, a food market, in the Marais.
Advertisements
Les Délices d'Amour

Don't be fooled by its questionable name and its less than desirable look. Even though its decor matches the name of the place — slightly kitsch and dubious — the place prepares tender meat that is perfectly seasoned. Named France's best kebab in 2013, this 19th arrondissement restaurant serves delicious Turk street food until two in the morning.
B.Bell
Please, don't order a kebab here. The B.Bell is very intense with its nomenclature and what one serves here is known as a French spit. The difference? We're not sure about that one. One is French, the other is not… The fact remains that the B.Bell spit is generous, tasty and available until 10 pm from Thursday to Saturday in the Republic arrondissement.
Grillé
The Grillé is the best place in the 11th arrondissement. Flawless branding, superb corner local, trendy and sleek decor, they've got the perfect atmosphere to go with their luxurious kebabs. These kebabs are made with organic homemade bread, fresh herbs, high-quality meat and served until 9 p.m. from Wednesday to Friday.
Buffet Dost
Forget about kebabs for a minute, at Buffet Dost it is all about the gyro. This Greek-inspired snack counter on rue d'Avron with a (surprisingly) very high-tech and extremely laid back decor serves excellent grilled over the flames meat that is perfectly seasoned. Enjoy your gyro straight from the tray or take it to go until midnight.
Maison de Gyros
There are no places to sit at the Maison Gyros. You can get a take-out sandwich until two in the morning. Ideal to pick up on your way home (more exactly on your way to your comfy and soft bed), this Saint-Michel neighbourhood Greek sandwich distinguishes itself from other restaurants because of its amazing quality. A paper cone, a gyro and fries: everything you need to get back home a happy camper.
Le Daily Syrien

The discreet and very homey Daily Syrien is the Parisian destination to satisfy your craving for shawarma. Here you can savour some delicious sandwiches filled with marinated meat and fresh and colourful ingredients in a rural, welcoming and luminous decor until midnight during the week, 1 a.m. on Fridays and Saturdays and 11 p.m. on Sundays.
Özlem
Finish off your night at Özlem for an excellent Turkish doner kebab but make sure you check your calendar first. This cult-like address in the 10th arrondissement is only open until 11 p.m. on Fridays. Otherwise, you risk being disappointed if you go there after 5 p.m on any other day.
---
Cover photo credit: dreisoen/Instagram