The 10 best restaurants in Portland perfect for foodies
Are you planning on spending a few days in Oregon? Here are 10 of the best restaurants in Portland that will undoubtedly delight your taste buds!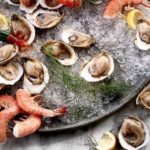 Portland, located in Oregon and known as the "City of Roses", has a lot to offer tourists, including foodies. In fact, this destination, which is considered an extremely trendy place, is not only known for its microbreweries, but also for its delicious restaurants and cafés. If you are travelling through Oregon while in the United States, you must stop at one of the best restaurants in Portland. Whether you prefer a more French-inspired cuisine or some street food, you will undoubtedly find happiness in one of these establishments.
Advertisements
Here is a list of the best restaurants in Portland to try when visiting the city
Advertisements
Canard
Lovers of French cuisine will be delighted at Le Canard, a restaurant whose chef Gabe Rucker provides access to both succulent and accessible cuisine. Although you are in Oregon, the elegant and friendly setting of Le Canard will give you the impression of being in Paris. We suggest you try liver dumplings and one of their affordable and delicious wine choices!
Advertisements
Ken's Artisan Pizza
Ken's Artisan Pizza is the ideal place to enjoy Neapolitan-style pizza. This restaurant offers delicious thin crust pizzas baked in a wood oven and topped with imported cheese. You can accompany them with a cocktail or one of the many wines on the menu.
Advertisements
Ringside Steakhouse
To enjoy a good steak, Ringside Steakhouse is the ideal restaurant! This gastronomic place will satisfy you with its vintage and welcoming look. In fact, expect to be served a delicious steak by fancy waiters in a dark but inviting setting. You will find many affordable dishes, but be aware that aged steaks are the house's specialty. In addition, Ringside Steakhouse has an impressive collection of vintage wines. This is undoubtedly a restaurant meat lovers should discover!
Jake's Famous Crawfish
Portland is also a privileged destination for seafood. At Jake's Famous Crawfish, you can enjoy all kinds of seafood dishes, including salmon, crab, seafood pasta and delicious crayfish.
Le Pigeon
Le Pigeon is also a restaurant where you must undeniably go to eat if you are fond of French cuisine. You will be able to enjoy decadent foie gras in this small restaurant where the cuisine is modern and creative. We suggest you book in advance because this restaurant is always full!
Nong's Khao Man Gai
Gone are the days when food trucks only offered junk food! In recent years, street food has taken an interest in the gastronomy of almost everywhere in the world, which, of course, has attracted foodies. Nong's Khao Man Gai is a food truck specializing in Thai cuisine, particularly chicken and rice. It is also possible to obtain vegetarian dishes with tofu.
Kachka
For a slightly different culinary experience, visit
Kachka
. It is an excellent Russian restaurant also located in Portland. You can accompany the house specialties with vodka. Since the establishment is small, we suggest, as with Le Pigeon, that you book before going there.
Bollywood Theater

This Indian restaurant will also guarantee you a culinary experience with its street cuisine and relaxed décor. You will love its friendly atmosphere and its dishes to share at a low price. One of the special features of this restaurant is the screening of Bollywood films. So sit back and enjoy the delicious Bollywood Theater cuisine while you watch one of the projected movies!
Ava Gene's
For a breathtaking Italian meal, Ava Gene's is the place to go! This restaurant, which offers Italian-inspired dishes that adapt to the changing seasons, invites you to enjoy a menu as rich and varied as its wine list and cocktail menu. Get dressed up and discover the dishes of this chic restaurant. This is truly one of the best restaurants in Portland.
Marukin
Marukin offers you an insider' s look at Japanese cuisine with delicious ramen dishes for the modest sum of about $11.00. You can enjoy it on Alder Street and at the Pine Street Market if you ever feel like it.
It must be said that there is no shortage of tasty restaurants in this splendid city. Whatever your current desire and budget, you are almost sure to find a place to enjoy with this list of the best restaurants in Portland!
---
Cover photo: Instagram @mcandschmicks