15 delicious and original burger recipes to try this summer
This summer, delight your taste buds with these 15 original burger recipes to try. The whole family will rejoice.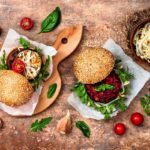 Even though the summer is the perfect excuse to bring out the BBQ and prepare a few recipes perfect for the summer season, any moment is good to savour a delicious hamburger. With a thousand and one combinations possible, this emblematic American dish easily transforms itself and can be adapted to everyone's tastes. Whether you are a vegetarian or a meat lover, here are some original burger recipes that will change your routine and delight your taste buds.
Advertisements
Turkey and pesto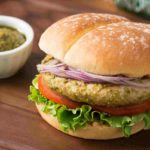 Even though most people are used to eating a burger with a traditional beef patty, burgers don't necessarily have to contain this kind of meat. A turkey patty can also be a great choice. Replace your barbecue sauce with a scrumptious pesto sauce, add your favourite condiments and enjoy.
Advertisements
Salmon and cabbage and apple salad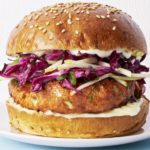 Simple julienne green apples mixed with red cabbage is perfectly combined when coupled with a salmon patty. Add some dill pickle slices to get an explosion of taste in your mouth.
Advertisements
Quinoa and Portobello mushrooms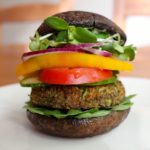 Whether you are vegetarian or not, quinoa can become a must on your menu. In a burger, it is simpler to prepare than you think, it has less fat than traditional meat-filled burgers and it is just as delicious despite its difference in taste. Replace your buns with portobello mushrooms and add a variety of condiments for a surprising mix of flavours.
Advertisements
Greek chicken burger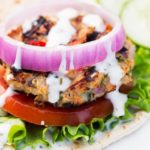 By adding feta, chillies, onions, garlic and parsley to your ground chicken, you'll create impressive gourmet patties. Then, replace your traditional ketchup with a tzatziki sauce and your buns with pita bread, then add a few slices of cucumbers and tomatoes for a fresh taste.
Chickpea and corn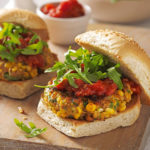 Vegetarian burgers are very popular right now. A chickpea and corn burger is simply perfect for those taking their very first steps into a meatless burger world. With a little hot sauce, the enhanced taste will blend perfectly with the flavours of your various ingredients.
Pulled pork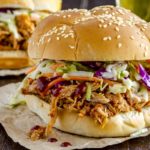 Pulled pork is quickly becoming a classic in our diet and is certainly one of the most original burger recipes of our time. With its sweet and savoury taste, it easily turns into a hamburger and is excellent with Swiss or cheddar cheese and some creamy coleslaw.
Chicken Caesar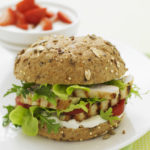 Chicken Caesar burgers are the perfect meal to please the whole family. Simple, fresh and delicious, the blend of chicken, tomatoes, lettuce and Caesar dressing transforms a simple weekday meal into a gourmet experience.
Black bean and couscous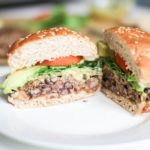 Rich in protein, black beans are a great way to replace red meat. Mixing them with couscous gives your patty an amazing texture and interesting taste. Garnish with avocado and tomato slices.
Blue cheese, bacon and balsamic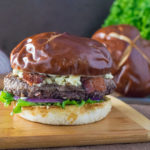 Blue cheese is certainly not everyone's favourite cheese. On the other hand, those who love it will not be able to resist this excellent burger with an incredibly cheesy flavour. With a balsamic mayonnaise, bacon and blue cheese, you will love the taste of this unique dish. For a little extra punch, add some caramelized onions.
Thai chicken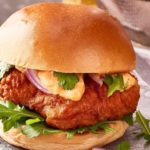 Low in fat, the Thai chicken burger will add a little spice to your day. If you don't like curry, sweet peppers and peanut sauce, you can also vary by using hot sauce, cucumbers and coriander.
Sushi burger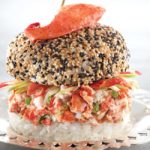 If you're a sushi lover, this lobster and shrimp burger will seduce you from the first bite. Requiring only a few ingredients, this delicacy of the sea is quick to prepare and is ideal during hot summer days.
Cauliflower and mushroom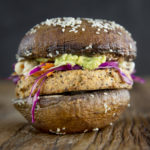 Whether it's to replace your mashed potatoes or your meatball, cauliflower is always a yummy substitute. In a patty between two Portobellos mushrooms, it's a real treat! Plus, it's a recipe that allows you to add more vegetables to your kids' plates (but they won't even notice they are eating veggies).
The breakfast burger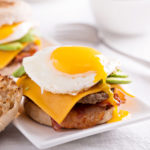 Eggs, bacon and cheese, that's the perfect American breakfast. If you turn this combination into a burger with English muffins or a bagel, this mixture of ingredients makes more than one salivate. For the more gourmand ones out there, add sausage or even a breakfast hashbrown. Quite fatty, this meal could be your reward of the month.
Goat cheese, fig and honey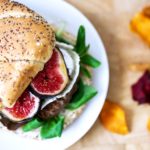 For its sweet taste, freshness and mildness, this goat cheese, fig and honey blend is a tasty alternative to consider when planning your next meal. Garnish it with a few arugula leaves for even more flavour.
There's no point in messing with a classic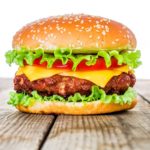 The beauty of a hamburger is that it's a meal you can never get enough of. Perfect during the summer, the combination of ground meat, bacon and cheese is and will always remain a favourite on the BBQ.
There are so many alternatives to classic burgers that your imagination is the only limit. Whether you choose a veal, beef, chicken or vegetarian patty mixed with ingredients like beans, seitan or tofu, all combinations are mouth-watering and all original burger recipes have the merit of being tried and tested.
---
Cover photo credit: sveta_zarzamora | Bigstock