10 excellent Montreal restaurant/takeout counters to visit
Small space, delicious food: these Montreal restaurant/takeout counters are worth the detour. Savour their food on the spot or devour it at home.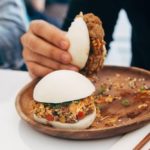 We often have to line up in front of their doors and the impatient ones will take their meal to go. And even though a bigger local would help with the high demand of these places, this would also ruin the charm of these small canteens, delicatessen and restaurant/takeout Montreal joints. Some offer a few seated places, some not at all. Here are 10 excellent Montreal restaurant/takeout counters to visit for a flavourful meal to savour there or at home.
Advertisements
Épicerie Hào
L'Épicerie Hào comes to life in a magnificent and very small local with a clean and impeccable decor on Rue Rachel. There are no grocery products, but they have excellent dim sum. The place specializes in dumplings and steamed buns, which are handmade and available in two flavours, pork and vegetarian. Served with a pickled cucumber salad, they always have a delicious dessert of the day.
Advertisements
Adamo Pizza
Adamo has been serving slices of happiness in the Saint-Henri district since 2015. The New York-style pizza of this restaurant evocative of a welcoming Italian address of the Big Apple has become a must in the neighbourhood. One quickly ingests a slice standing up close to the counter after a game of table football or one takes it to go. Huge whole pizzas are also available for groups and hungry people.
Advertisements
Comptoir Rhubarbe
The Comptoir Rhubarb is a safe address for a light, sought-after and delicious weekend brunch, but also for tasty lunches as well as meals and pastries to take out. Vegetable terrine and gravlax; Sainte-Madeleine melon, prosciutto, Espelette pepper and sour cream; millet, grape and goat cheese salad, natural wines imported privately… Find everything you need for a refined picnic.
Advertisements
Épicerie Pumpui
This friendly curry and grocery counter in Little Italy brings much more than Thai flavours to Montreal. The place has all the characteristics of a Thai neighbourhood business, from the décor to the atmosphere. There are a few South Asian products on sale as well as products bearing the effigy of the place. The real attraction, however, is the excellent comfort food available in ready-to-eat and à la carte. The changing and never boring menu remains heavily curry oriented.
Drogheria Fine
In addition to selling excellent homemade tomato sauces and olive oils that will please connoisseurs, this Italian delicatessen on Fairmount Street in the Mile End splits into a gnocchi counter. No seating space and no risk for the undecided: only one kind of fresh pasta is offered and served in cardboard Asian takeout boxes through the grocery window. A charming concept that is matched only by the quality of the product.
Ramen 900
Ramen 900 is an excellent ramen counter that likes to be desired. This seasonal pop-up in the heart of Saint-Henri takes place in the charming Dalla Rose creamery from October to the return of summer. Three versions of ramen are available to enjoy at the small counter or to take away. All three are vegan by default, but whoever wishes can add extra eggs and/or pork. Bonus: some ice cream flavours are available during the winter season.
Brit and Chips
Inspired by the English fish and chips tradition, Brit and Chips offers an authentic overseas chippy experience tinged with Quebec culture. At this counter, various breaded and fried fish accompanied by chips in the typical cut are served, but also scotch eggs, mushy peas, cod cakes and patties. All wrapped in fake newspaper.
Il Miglio

This superb space on Saint-Laurent Boulevard serves artisanal pasta in a refined canteen atmosphere. The menu changes weekly and features a variety of fresh pasta dishes prepared on site, cooked by the minute and served in a cafeteria style. The ideal place for an excellent quality Italian meal on a busy day. You can also find ready-to-eat dishes for people in a hurry who don't have time to wait.
Tejano BBQ
For quality Tex Mex cuisine (with portions that are more Texas than Mexican), visit one of the two Tejano BBQ counters in Montreal. Both the Saint-Henri and Old Montreal branches serve tacos, but most people go there for their great burritos available in a tortilla or bowl. From the same owners as Blackstrap BBQ in Verdun, the meat is, of course, excellent but there are also vegetarian options and a wide selection of toppings.
Falafel Yoni
Falafels are one of Yoni's most popular on-the-go meals, but Yoni's are even better on the spot. Falafel in pita and salad, sabich, hummus, chips and chocolate tahini balls are served in a sublime and refined decor. A long counter goes around the room which is equipped in its center with an industrial type sink. You can enjoy gourmet plates accompanied by a limonana.
These 10 Montreal restaurant/takeout counters are worth the crowded atmosphere and are also worth waiting in line for a meal that's sometimes simple, sometimes quick, but always delicious. These addresses are proof of a relaxed approach to catering can also be synonymous with quality.
---
Cover photo credit: epiceriehao/Instagram