10 gluten-free beers that will quench your thirst
Just because you have a gluten intolerance, it doesn't mean that you can't drink delicious beer! Discover some amazing gluten-free beers now!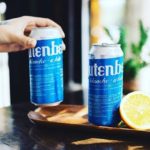 Having a gluten intolerance is quite common these days, which is why many food companies and restaurants try to offer alternatives to people with a gluten intolerance. After all, gluten is present in many foods, even in beer! Fortunately, tasty gluten-free beers are now available on the market for people to enjoy worry-free. Discover our top picks of gluten-free beers.
Advertisements
St Peter's G-Free, 4.2%

The gluten-free St Peter's G-Free is brewed in the Suffolk County in England. It reveals many flavours, including a fruity taste of mandarine and tropical fruit. We are, however, very far from a white or blond beer. It is a beverage with a pilsner lager style finish and it is simply delicious.

Advertisements

ALTIPLANO gluten-free organic quinoa beer, 5%

The ALTIPLANO, which is brewed in France, is quite particular. Indeed, not only is it gluten-free but it is also made with quinoa cultivated in the Loiret region. Its taste is reminiscent of German or Belgian beers. You will taste notes of orange, banana and apple. It is, without a doubt, a thirst-quenching beverage that is perfect for hot summer days.

Advertisements

Brunehaut white organic & gluten-free, 6.5%

The Brunehaut white organic & gluten-free beer is also a must-try beer for people with gluten intolerances. It is perfect for you if you like fruity beers and beers that aren't very bitter. Indeed, you will discover a rich fruity flavour composed of lemon, citrus, apricots, pear and apples. You will love it during happy hour or to accompany your tapas.

Advertisements

RedBridge, 4.8%

The RedBridge is a gluten-free lager infused with sorghum, a plant that originates from Africa. You will enjoy its fruity and hopped taste.

Ipswich Celia Saison, 6.5%

The Ipswich Celia Saison, a beer brewed in the state of Massachusetts in the United States, is another beer you should discover. This beer, which is made from sorghum syrup, reveals notes of curaçao orange and pepper. It is inspired by traditional Belgian beers made by farmers.

Dogfish Head Tweason'ale, 6%

Once again, this gluten-free beer is made with sorghum. You will recognize, in the Dogfish, strawberry, honey and molasses flavours. The taste of the hop is delicate but delicious. It is an ideal beer for people with a sweet tooth.

Ghostfish Brewing Company Grapefruit IPA, 5.5%

You will enjoy this gluten-free beer brewed in Seattle in the United States if you like the flavour of grapefruit and the bitterness of IPA beers. The Ghostfish is concocted from three grains: buckwheat, millet and brown rice.

Burning Brothers Brewing Roasted Coffee Strong Ale, 7.7% Omission Beer Ultimate Light Golden Ale, 4.2% Glutenberg Blanche, 5%

The Glutenberg beer is very known in Canada. This Belgian inspired beer is brewed from buckwheat, millet, and quinoa. It reveals notes of coriander and curaçao which make it a very refreshing drink.

In sum, the choice of gluten-free beers is quite varied and they are, of course, all very delicious. The time when people with gluten intolerances couldn't enjoy a beer is now over! We have presented to you a few gluten-free beers but there are many others for you to discover.
---
Cover photo: Instagram @glutenbergbeer