Healthy lunch: 10 ideas for your meals
Eating well is a daily challenge, but these 10 healthy lunch ideas will make it easier for you and certainly make all your colleagues jealous.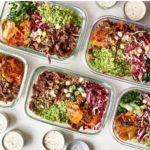 Eating well on a daily basis can be challenging, especially when it comes to lunches. Many people do not always bother to prepare meals for their weekday lunches and if there are no more leftovers from the previous day, it is usually restaurant food that prevails. But eating healthy in restaurants is also quite difficult. That's why it's ideal to prepare good meals specifically for your lunches – that being said, there's nothing to stop you from cooking healthy foods for your other meals! – that will be good for you and will also taste great! Here are 10 healthy lunch ideas that will certainly make all your colleagues jealous.
Advertisements
Chopped chickpea salad
If you're the type of person who doesn't have enough time on weekday evenings to prepare next day lunches, this salad, courtesy of Sweet Peas and Saffron, is for you. Filled with healthy and fresh ingredients, you can easily prepare it on the weekend and make several servings for the coming week. Bulgur, chickpeas, feta cheese, celery, pepper, radish and red onion make up this absolutely exquisite salad. Topped with a honey and lemon vinaigrette, it's a real delight!
Advertisements
Italian chicken salad sandwich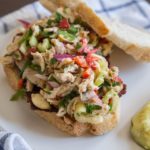 Everything but boring, this Italian chicken salad sandwich from Elizabeth Passarella of The Kitchn will be a great alternative to the traditional ham or tomato sandwiches you make. Filled with tasty and crunchy ingredients like celery, pepper and toasted almonds, the chicken salad between your two slices of bread will be absolutely divine. Feel free to use a country loaf instead of simple sandwich bread for an even more succulent sandwich.
Advertisements
Wild rice salad
Jamie Oliver is known for his simple and quick recipes and it must be said that his wild rice salad is no exception. Requiring only a few ingredients – wild rice, a mixture of nuts, fresh basil, fresh mint, dried apricots and olive oil – the longest step in this recipe is to cook the rice. Then you cut the other ingredients, mix them all together and that's it! You can also eat this salad as a meal or as a side dish; it goes very well with grilled meat or fish.
Advertisements
Greek sushi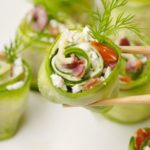 What could be fresher and tastier than sushi? Greek sushi! Although very different from the typical Japanese bites, the Greek sushi offered by Lauren Miyashiro from Delish is much easier to prepare. Wrap hummus, feta cheese, Kalamata olives, fresh dill, cherry tomatoes and, optionally, lemon wedges in thin strips of cucumber and voilà! Your Greek sushi is ready in just 15 minutes.
Creamy black bean taquito
Certainly, taquitos coming out of the oven, still hot and crispy, are the best. But don't get me wrong; heated taquitos, even in the microwave, are still delicious even if they have lost their crunch. There is no need, therefore, to remove them from your healthy lunch list. By the way, these creamy black bean taquitos that Beth whipped up on Budget Bytes are so good that you'll want to eat them again and again! The mixture of cream cheese, black beans, green peppers, onions and garlic powder will delight you.
Salmon and kale Caesar wraps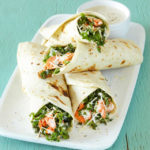 All the different types of Caesar chicken sandwiches are obviously a winning choice, but what about those with Caesar salmon? They are a pure delight! Take these Kelli Foster Caesar Salmon and Kale Tortillas from The Kitchn, for example; they're everything you could ever want from a Caesar chicken tortilla, but they're better. Together, the salmon, kale, caesar sauce and Parmesan cheese form an absolutely exquisite combination. In addition, using kale instead of crisp romaine lettuce allows you to prepare your tortillas two to three days ahead of time without risking your greens from softening.
Buddha noodles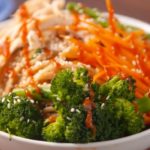 Buddha bowls have been very popular in recent years. There are many different kinds but you have to admit that Lauren Miyashiro's Buddha noodle bowl recipe from Delish is hard to beat. Udon noodles, peanut butter, soy sauce, sesame oil, honey, lime juice, garlic, chicken, broccoli, avocados, shallots and sesame seeds form this healthy dish perfect for your weekly lunches.
Giant veg rösti
Röstis are not necessarily the kind of typical meal you would expect, but these giant veg röstis by Jamie Oliver are extremely nutritious thanks to the potatoes, spinach, feta cheese and poached eggs inside. Combined with carrots, Dijon mustard, lemon, olive oil and peas, these ingredients make the perfect healthy, crispy and tasty lunch that will make your colleagues jealous every time.
Lemony chicken and dill soup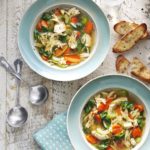 There's nothing better than a good hot soup on a cold day of autumn or when you're sick. Marian Cooper Cairns from Delish offers a delicious lemony chicken and dill soup. Comforting and light, this soup will satisfy you with its healthy and fresh ingredients including carrots, celery, onion, fresh thyme, baby spinach, fresh dill, lemon zest, lemon juice and, of course, chicken breast.
Firecracker chicken
Another meal that is easy to prepare in advance is undoubtedly Denise from Sweet Peas and Saffron's firecracker chicken. Nutritious and tasty, this dish is also convenient, easy to prepare and gluten-free, making it perfect for people with celiac disease. Cornstarch, olive oil, honey, hot sauce and apple cider vinegar coat your chicken breasts with a divine sauce. Accompanied by basmati rice, zucchini and edamame, this spicy chicken is simply delicious.
These 10 healthy lunch ideas are proof that eating well is possible with a minimum of effort. Ordering food from a restaurant can certainly be an even simpler option, but once you've concocted these incredible dishes, you'll never want to give in so easily to the call fast food joints again.
---
Cover photo: Chelsea Lupkin | Delish