Montreal's best restaurants for an international brunch
Skip the usual continental brunch. Instead, enjoy one of Montreal's best restaurants for an international brunch you won't soon forget.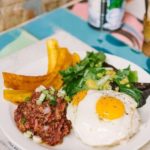 While we like to discover and savour cuisines from different cultures, few dare to taste the flavours of the world during for their morning meal. However, the metropolis has many wonderful addresses where breakfast is made like it is abroad. So keep the weekend brunch tradition, but change the usual dishes you eat to break the fast by visiting one of these Montreal restaurants for an international breakfast.
Advertisements
Junior
In a colourful décor and friendly atmosphere, this charming little restaurant on Notre-Dame Street in Griffintown serves a comforting Filipino breakfast all weekend long. Available from 10 a.m., the brunch menu includes longsilogs (homemade sweet pork sausages, fried rice and fried eggs, plantain chips and greens), tortang corned beef (corned beef omelette with tomatoes and onions served with fried rice and plantain chips) and fried chicken and coconut waffles.
Advertisements
Ikanos
It's never too early for delicious seafood. Located in Old Montreal, the chic restaurant Ikanos offers modern and refined Greek cuisine where seafood is the main attraction. Shrimp platters, scallops, grilled octopus and squid, crab eggs benedict, oysters and mezzedekias to share can be found on the weekend brunch menu.
Advertisements
Hof Kelsten
First known for its excellent bread, this superb bakery on Saint-Laurent Boulevard also offers delicious lunches inspired by Jewish gastronomy. Gourmet plates of shakshuka, schnitzel, latkes, babkas, French toast and incredible sandwiches are offered for the weekend brunch. There is no table service and there are very few tables in the restaurant (by the way). The magnificent room, with its modern, industrial décor and relaxed atmosphere, only has a counter and a few seats.
Advertisements
Lavanderia
This popular Westmount neighbourhood address celebrates the Argentine heritage of its owner/chef Antonio Park. In a fresh and flowery setting evocative of a laundry room, you can enjoy succulent dishes with South American flavours. For brunch, you can enjoy, among others, choripan (spicy sausage, brioche bread, manioc chips, green pepper), duck egg, fresh salsa and black beans or the Argentinean breakfast pizza of the day.
Byblos Le Petit Café
Join the family and taste the warm Iranian culture for an atypical Sunday morning meal at Byblos Le Petit Café. Established on Laurier Street for almost thirty years, this welcoming Persian-inspired restaurant serves rich authentic Iranian cuisine. Order feta and/or date omelette, fresh bread, cheese and jam as well as an assortment of dips to share for the ultimate experience.
Palme
Only offered on the last Sunday of the month, the only Caribbean brunch in town is worth the wait. The brunch menu with West Indian flavours is a reflection of the place itself: lively, vibrant and luminous. To the rhythm of a DJ, customers savour seafood chowder and popcorn, snapper and coconut with crushed tomato and homemade biscuit, mango pouding chômeur and mango cream coulis and other revisited dishes.
Café Chez José
This welcoming, colourful and unpretentious address on Duluth Street serves an authentic gourmet Portuguese brunch every day of the week. You can enjoy hearty plates of comforting dishes such as the complete Portuguese breakfast, two fried eggs, Portuguese chouriço, fried red pepper potatoes, salad and toast.
Jiep Jiep
Who can say no to kimchi at lunchtime! Take a real break from traditional continental brunch and discover a completely different morning gastronomy (morning culinary culture) at Jiep Jiep. This Asian counter on Jean-Talon Street offers authentic Chinese, Korean and Japanese cuisine. The changing menu also includes fusion dishes and internationally inspired dishes. Korean pancakes with shredded pork, jicama salad, fried egg, kimchi and green salad, or Cantonese congee, tea egg, sautéed shimeji, Chinese marinades, mushroom salad and miso soup are just some of the elaborate and tasty meals served at the weekend brunch. All nicely presented in charming mismatched porcelain.
Mesón
Meet friends in this charming little bistro in Villeray to enjoy good company on Saturday and Sunday mornings. Mesón offers excellent Spanish cuisine in a neat setting and a warm atmosphere. The brunch menu features gourmet dishes such as French fries and bravas sauce, chocolate churros, shrimp toast and poached egg as well as crusty tuna, soft-boiled egg and adobo sauce.
Santa Barbara
For a fresh cuisine with seasonal food, go to Little Italy and grab a table at Santa Barbara. Ideal for the undecided, the place serves a cuisine of international inspiration, always original, predominantly vegetarian although the hardened carnivores will also find their account there. From The Criminal – baked eggs, tomato, red pepper sauce, fresh coriander, chorizo, sourdough toast – to The Miner – roasted pork belly, cilantro, scallions, pickled carrot and daikon, cucumber, sriracha mayonnaise, two fried eggs on French baguette – to cocktails, everything is delicious.
Restaurant Su et BarBounya
In her two establishments located respectively in Verdun and the Mile End neighbourhoods, Chief Fisun Ercan offers the Montreal community an integration into the Turkish breakfast culture. Find authentic dishes and a tray of honey and kaymak, mixed olives, tomato salad and ricotta, spreads, jams and hot bread in both restaurants. Choose to follow the tradition and wait until the end of brunch before drinking coffee or if you prefer, you can accompany your delicious and gourmet meal with this famous beverage.
The weeks will always follow, but from now on, weekend brunches won't have to be the same. Make a list, try them all, go back to your favorite places. And, of course, reserve a few brunches to enjoy the typical eggs, bacon, pancakes and French toast, which remain classics as well as, for some, the most comforting brunch menu ever.
---
Cover photo credit: juniorfilipino/Instagram