11 of the most beautiful places to drink a good coffee in Paris
Whether you're planning a coffee tour or looking for a great place to read your book with a good coffee in Paris, these addresses are a must.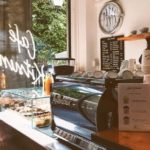 We like to stop there quickly on weekday mornings for an espresso to go, to stay there in the afternoon with a Viennese pastry in front of us and a good latte and to share an excellent breakfast in good company on the weekend with friends. One goes there as much for the quality of their products as the beauty of the place and the atmosphere which reigns there. Here are 11 of the most beautiful places to spend a good time and enjoy an excellent coffee in Paris.
Advertisements
Kitsuné
From the founders of the Maison Kitsuné, the coffee of the same name celebrates the art of roasting in a modern setting faithful to the brand's aesthetic. In addition to its cafés, the Galerie Montpensier Street address serves freshly squeezed Bob's Juices and gluten-free NOGLU gluten-free pastries. In addition, lovers of the charming Kitsuné Coffee dishware sets can purchase these same cups, and other accessories, on site.
Advertisements
Café Pinson
With addresses in the Marais and the Faubourg Poissonnière, the charming café Pinson sows happiness veggie style in Paris. These welcoming and trendy addresses lend themselves well to relaxed afternoons of the tea and pastry type, but one goes there mainly for tasty gourmet, healthy and entirely vegetable plates.
Advertisements
Ob-La-Di
54 Saintonge street is home to one of the most beautiful cafés in the city. This tiny room with its modern, industrial and bohemian accents is casual chic. Excellent coffee, granola, toast and pastries are served for snacking or breakfast.
Advertisements
La Fontaine de Belleville
La Fontaine de Belleville really looks like a traditional Parisian café – from the Drucker chairs to the large mirror that lines the wall behind the bar. One sits on the terrace to savour a good coffee, but also to drink an aperitif or sip some good wines and to eat well from morning to evening.
Télescope
This discreet and refined 2nd arrondissement address presents a minimalist and welcoming decor. Tasty cookies, pastries, sandwiches and more are served. However, the main interest remains the excellent coffee that is served there. Prepared with passion and meticulousness, this one is of high quality.
Comme à Lisbonne
As its name suggests, this very nice bright space of the Marais specializes in Portuguese products. One goes there to taste excellent pastel de natas, which are even better accompanied by a tasty traditional Portuguese coffee. The tiny space is nicely decorated in a style evocative of the city of Lisbon and highlights imported products for sale.
The Broken Arm
The Broken Arm is a two-phase project, a shop and a café/restaurant. Also in the Marais, this trendy address serves superb plates for breakfast and lunch as well as pie, bread and croissants all day to accompany your coffee.
Le pavillon des canaux
The Pavillon des canaux owes its place on this list to its wonderful terrace. While the building that houses it is magnificent, the interior of this café, with a public house concept can fall into the area of bad taste. However, this aesthetic lends itself well to the rear veranda, which offers a superb view of the canal. The place also remains welcoming and friendly. We eat well and drink delicious coffee.
Café Boot
This hole in the wall of the Rue du Pont aux Choux shares with this type of business only the impressive smallness of the local. The charged decor combines rural and modern elements to create a lively atmosphere and an attractive aesthetic. One drinks a quality coffee which is generally taken to go.
Ten Belles
A popular address for residents of the Canal Saint-Martin district, 10 Belles attracts customers from all over Paris. Of course, its excellent coffee earns it this reputation, but also its delicious breakfasts, lunches and pastries, as well as the friendly and relaxed atmosphere.
Peonies
Despite its delicious cuisine, Peonies stands out first and foremost for its fresh, flowery décor. In addition to being an excellent place to chat in good company in front of very pretty pastries and a good coffee, Peonies serves superb rich and healthy plates.
This list could be accused of omitting Fragments, Loustic, Coutume, Craft, Fondation Café, CREAM, Kooka Boora and several other notable addresses from the Parisian coffee scene. It is that this one could stretch indefinitely since Paris overflows with nice places to fill up on caffeine. A great way to find them is to get lost in the city's beautiful streets. After all, the best discoveries are often found serendipitously.
---
Cover photo credit: karinarisya/Instagram