10 mouth-watering BBQ meat recipes to try this summer
These 10 mouth-watering BBQ meat recipes will spice up your menu all year round. Your guests will love it.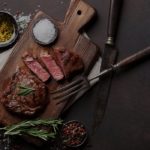 Although we love BBQs during the summer season, they can also be part of our gourmet winter evening meals as well. Summer and winter alike, barbecues allow us to prepare good meals and enjoy our favourite grilled foods. Of course, many people consider meat to be the food of choice for this outdoor cooking device. That's why there are hundreds of BBQ meat recipes on the Web and in the various cookbooks of this world. Here are 10 recipes from the Grilled Cookbook that will awaken your appetite at any time of the day.
Advertisements
Firecracker Ribs
If you thought the best ribs were in a restaurant near you, you'll be surprised to find that you can make the best ribs at home. With this simple recipe that doesn't require too much effort, you'll get tender, juicy ribs in no time.
Advertisements
Spicy Steak & Cheese Tacos
Reinvent the way you make tacos with this quick and easy cooking technique. These will certainly be the tastiest tacos you will have tasted in your life. With the mixture of different spices, it will be an explosion of flavour in your mouth and you will certainly not want to stop eating!
Advertisements
Tequila Lemon Chicken
Tequila is a strong alcohol that not everyone likes. However, you'll be happy to know that you don't have to be a huge Tequila drinker to enjoy this lemon and tequila chicken. From the first bite, you'll be convinced. You have to try it to adopt it!
Advertisements
Chorizo-Stuffed Fatty
Here is the perfect recipe to please great meat lovers. Made with chorizo, bacon and cheese, this blend is ideal for camping evenings or even summer BBQs. Salty, the taste of this dish will perfectly accompany your beer by the pool.
Nacho Wings
In summer as in winter, chicken wings are an essential food to have around the table. When combined with the flavours of nacho, it's a sure treat. Impress your guests at your next event or make your Superbowl night more meaningful next February by serving this dish.
Honey Heat Pulled Pork
The sweet and sour mixture of pulled pork is easily added to our favourite dishes, whether it's pasta, a sandwich, a grilled cheese or a burger. By adding honey and cooking it on the BBQ, it's a guaranteed success every time.
Beer-Candied Bacon
Interested in a grill party? Feel free to offer this sweet beer bacon. Easy to prepare, this sweet and savoury snack will leave no one indifferent. Be careful, people will ask for more.
Cuban Sandwich
Taste the flavours of the world directly at home with this Cuban sandwich, which is very easy to concoct. Sweet and spicy at the same time, this pork sandwich is served very well at lunchtime and even in the evening. It is a recipe that will surprise you from the first bite.
Root Beer Chicken Wings
Here is a second chicken wing recipe, this time quite different, but just as succulent. Made with root beer. It is once again a sweet and savoury taste that will delight your taste buds.
Planked Cheesesteak
Never be bored by a sandwich again with this delicious homemade cheese and steak blend. Tasty, the different spices that accompany your meat transform your simple sandwich into a gourmet meal.
For more tasty recipes, get the Grilled Cookbook now. You will find the best meat recipes on the BBQ. Well imagined, the cookbook will forever change the way you cook your meats.
---
Credit : Grilled