Plant-based waters to sip on for a change from LaCroix
After green juices and vitamin water, the new healthy trend to sip on is plant-based waters.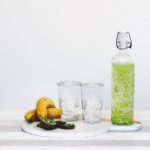 You spent last summer tasting all the possible and unimaginable flavours of LaCroix and winter rotating your favourite ones? In short, you are ready to say thank you, next and move on to the latest non-alcoholic liquid trend? Meet plant-based waters. Full of benefits, and in some cases flavour, these nutrient-rich beverages do more than quench your thirst. Discover the options among the fast-rising tree and fruit drinks that are making a splash and perhaps make space in your fridge. Plant-based waters could be worth the hype.
Advertisements
Coconut Water
It has been on several menus as a base for smoothies and drinks for some time now. Coconut water is probably the most famous of all plant-based waters and seeing the trend, its reign is not about to end. This sometimes translucent, sometimes pink, and often all shades of yellow elixir is deliciously sweet and has an exotic scent that lends itself well to long days lounging by the pool. Also rich in potassium, coconut water is an ideal healthy alternative to fruit juices or alcoholic beverages saturated with refined sugar.
Advertisements
Birch Water
Birch water is, in fact, birch sap. The liquid is collected from the trees in question in the spring when the sap rises in the trunks. Its high micronutrient content and diuretic effect make it a good hydrating choice when detoxifying. Slightly sweet, but not very tasty, it is sometimes available enhanced with natural flavours.
Advertisements
Maple Water
Same story as birch water, but this time coming from maple groves, maple sap is a good source of antioxidants. Also low in sugar, it contains very few calories while being rich in vitamins and minerals. It is therefore a good hydration choice for athletes.
Advertisements
Watermelon Water
With its bright colour and deliciously sweet taste, watermelon water is pleasantly refreshing. Surprisingly low in calories, it is ideal in case of cravings. The newcomer will certainly be a tough competitor to coconut water for the title of the drink of choice for your afternoons in the sun. That's without saying that its concentration in a certain nutrient promotes the formation of melanin.
Aloe Juice
Aloe is that miracle plant with a thousand and one medical and beauty virtues. And topical application is not the only way to enjoy its benefits. You can also ingest it! However, its unpleasant taste and/or slightly viscous texture may not please you. Fortunately, many companies offer different approaches to enjoy drinking aloe vera. You may therefore find a version you like.
Cactus Water
Undoubtedly the most unknown of all, cactus water—or more precisely prickly pear water, the fruit of a Mexican cactus called nopal—is a well-kept beauty secret. Quite difficult to get your hands on, it, however, is said to be extremely beneficial to promote radiant skin given all the good things it contains.
Why don't you drop the bubbles? Flavoured carbonated water is no match for these vegetable waters. Whether you're sipping under the sun, replenishing electrolytes during or after physical exercise or simply optimizing your hydration, plant-based waters are the thing to drink this summer.