10 pretty essentials for zero waste lunches
Going green is very trendy as are these pretty essentials for zero waste lunches that will allow you to do your part with style.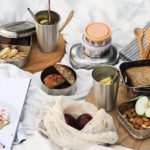 Making lunches is nice, making lunches that help save the environment is even better. All you need are a few pretty reusable and useful accessories to facilitate your daily life and finally say goodbye to disposable one-use plastic materials. Here are 10 essentials for zero waste lunches so you can take your lunch to the next level using only environmentally responsible containers and objects. Never has reducing your ecological footprint been so stylish.
Advertisements
Coffee cup
You will probably use it well before noon but it still remains an eco-responsible essential. The vast majority of one-use cups contain polyethylene, which makes them non-recyclable. Get yourself a pretty tumbler like a Keepcup. In addition to being reusable, they keep liquids hot and baristas will be happy to fill them up.
Advertisements
Lunch bag
No more old plastic bags to carry baloney sandwiches and chocolate pudding to school or work. First, because you bring your reusable bags to the grocery store and no longer own plastic bags, and second because baloney is a thing of the past. Many pretty and eco-responsible bags can be used to carry your meal for lunch, you are spoiled for choice.
Advertisements
Bento box
It is best to avoid plastic but you should especially avoid it when it comes to containers used to transport your food. Stainless steel Bento boxes are an excellent option. In addition to being cute and lightweight, these containers offer many different useful compartments to hold entire complex meals or ones that are simple and quick to make. Those who don't eat a lot can even store all their snacks and make this their lunchbox.
Advertisements
Small bags
These lovely small reusable cotton bags can be used to store your vegetables, crackers, cookies and even your sandwich. In short, all the food you want to include in your zero waste lunches. They are available in a range of sizes and are also available in a mesh fabric. These are perfect to replace the typical one-use plastic bags minus the ecological and economic disadvantages as well as being super cute.
Napkins
Of course, paper napkins are compostable but, unfortunately, most workplaces don't offer a container to put your compostable foods in. In order to avoid using and throwing out tons of paper towels, get yourself a napkin made out of fabric. The pleasant company Dans le sac makes pretty and super-practical bags to eat on the go. They are equipped with a pocket and a drawstring to store your spork.
Straw
To avoid a brain freeze, or ruining your lipstick or simply for your own personal pleasure, all the excuses are good not to say goodbye to straws. The negative consequences of these objects when they are made of plastic are well known. The solution? Buy yourself a reusable straw. You can get one made out of metal, glass, bamboo…All you have to do is pick your favourite material. Bonus: many models come with a cleaning brush to make cleaning them much easier.
Utensils
If you don't wish to haul utensils from your silverware drawer with you and risk losing them, get yourself a utensil kit for your lunches. This one offered by Ever Eco is made of bamboo so it is extremely lightweight and ecological. It even comes with a lovely little organic cotton case where you can store your knife, fork and spoon.
Glass containers
Stainless steel containers have many advantages and are ideal to transport salads, sandwiches, gazpacho, onigiri and other cold dishes. However, they are less practical when it's time to reheat some leftovers. A few glass containers are a great addition to your kitchen so you can eat warm dishes at work. But you might even be tempted to use them for your cold dishes if you choose to buy containers like the Wreck ones.
Wax paper
This superb invention will revolutionize your use of plastic wrap, aluminium foil and other one-use wrapping materials. Beeswax waxed paper from brands such as Abeego is reusable and perfect for your home and lunches. They are self-adhesive and only need the warmth of your hands to stick to your dishes or on itself to close your snacks, sandwiches and all kinds of other foods.
Water bottle
Your water bottle should always be with you wherever you go so you stay hydrated. Avoid those made in plastic and opt for a lovely reusable glass bottle or a pretty high-quality bottle made especially to be used again and again. The S'Well bottles, for example, are BPA-free and are perfect for your lunches at work, for your evening Pilates class and for your beach picnics and hikes on weekends.
These 10 pretty essentials for zero waste lunches will not only help reduce your environmental impact and do a small part to save the planet but you will also save some money at the same time. All of this done with style!
---
Cover photo: evereco/Instagram