10 pumpkin-based recipes perfect for fall
You went to pick some with your family, you decorated them for Halloween, all you have to do now is eat them. It is time for pumpkin-based recipes.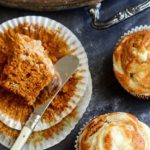 The leaves have changed colours, you don't leave the house without a sweater anymore and Starbucks has released its pumpkin spice latte. In short, fall is officially here. Pumpkins are in season and the weather is ideal for cooking tasty and comforting recipes that celebrate them. Here are 10 original pumpkin-based recipes, because as delicious as pumpkin pie is, there is always room for a bit of variety.
Advertisements
Chili
Not many meals are as comforting as a delicious bowl of hot chilli. This dish is an excellent meal to cook when the temperature starts to drop. To make the perfect fall version, add pumpkin. Serve it with cornbread or tortilla chips.
Advertisements
Cream cheese swirl muffins
Cream cheese is not only for bagels and carrot cake icing, but it also perfectly complements pumpkin-based baked goods.  Although they seem complex to make, the recipe for these moist and decadent pumpkin cream cheese swirl muffins is actually quite easy to follow.
Advertisements
Pasta
Sweet, salty and incredibly creamy, this pumpkin sauce recipe will transform your pasta dish into the perfect fall dinner meal. As well as being satisfying and comforting, this pasta dish is extremely simple to prepare. All you need is one skillet and 20 minutes.
Advertisements
Nanaimo bars
For a pumpkin-based dessert that is really different from classic fall desserts, test out these dark chocolate pumpkin bars. This treat inspired by the classic Nanaimo bars will please fans of the original British Columbian treat as well as those who are not crazy about them.
Curry
Just like sweet potatoes, pumpkin is a perfect addition to a curry. This simple and quick pumpkin and chickpea curry recipe is an excellent option for a healthy, nutritious and tasty weeknight dinner meal.
Waffles
Morning, noon, evening and even for dessert, waffles are like pancakes; they can be eaten at any time of day. Enjoy them whenever you like during the harvesting period and take advantage of the fall season to try this comforting pumpkin version since they are in season. A superb addition to your Thanksgiving brunch, this whole wheat pumpkin waffle recipe will be a real hit.
Hummus
Also, add pumpkin to your side dishes and your snacks with this fall dip. This unusual pumpkin hummus recipe sounds like an excellent idea, to savour with pita bread and vegetables or spread in sandwiches.
Whoopie pies
Moist, creamy et decadent, whoopie pies have what it takes to please everyone. Why not make a tasty pumpkin version filled with a smooth cream cheese filling.
Risotto
This decadent pumpkin risotto has all the richness of a traditional risotto minus the large quantities of butter, cream and cheese. Simple to prepare and perfect for those who can't digest milk products, this creamy recipe is perfect for hurried weeknight meals or a weekend meal with friends or family.
Blondies
Add pumpkin to your blondies to give them an autumnal twist. Find everything you love about moist blondies and fall flavours in this satisfying dessert that has a touch of chocolate. This pumpkin-based recipe risks becoming a new fall favourite.
Change it up from the usual pumpkin pie with these dessert, snack and main meal recipes that highlight this iconic squash. Enjoy it morning, noon and night in original and tasty pumpkin-based recipes perfect for fall.
---
Cover photo credit: thenovicechef/Instagram