13 restaurants in Montreal where you can eat gluten-free dishes
You'll be spoilt for choice despite your food allergy in these tasty Montreal restaurants where you can eat gluten-free dishes.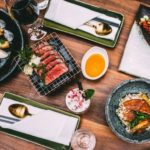 Socializing at mealtime and eating well when you have to – or want to – avoid gluten is much easier and more enjoyable than it used to be, at least in the metropolis. Establishments are increasingly more understanding, open and accommodating to various dietary restrictions, including an intolerance to gluten. It is thus possible to savour a sought-after dish and worldwide cuisine: you can tell the waitstaff when you arrive or call in advance in order to share your food allergies. However, some addresses take additional steps to better serve people with gluten intolerance or celiac disease. Here is the little guide to the 13 best restaurants in Montreal where you can eat gluten-free dishes in Montreal.
Advertisements
Cookie Stefanie
This small pastry shop in Old Montreal welcomes you for a delicious grilled cheese, toast and coffee, but especially for incredible desserts. Everything is gluten-free! Gone is that time when you were limited to only one wheat-free option. You'll have plenty of choices now. And it won't be easy: cookies, cupcakes, whoopie pies, carrot cake, strawberry shortcake, Queen Elisabeth cake, muffins, brownies, bars of all kinds… You may leave with your hands full.
Advertisements
Le Marquis bakery
The Marquis is a typically friendly and traditional local bakery… except they don't have wheat since this place specializes in gluten-free baked goods. These are quality products, most of which are also dairy-free. The croissants are airy and flaky, and the bread has nothing to do with the gluten-free, sad loaves found in grocery stores and some other places. You'll also find a wide selection of baked goods and pastries: chocolate croissants, éclairs, macaroons, tarts, small and large cakes, as well as quiches and pizzas.
Advertisements
Kleine Shoppe
This charming little restaurant on Notre-Dame Street in the Saint-Henri neighbourhood has a superb eclectic and luminous decor. Excellent brunches, lunches and pastries are enjoyed entirely gluten-free. The predominantly vegan menu includes (fake)lobster rolls, avocado toast, tacos, and (fake)cheesecake, as well as various changing treats such as pop tarts, waffles, scones, and banana bread.
Advertisements
La Crêperie du Marché
Established in the heart of the Jean Talon market, this French creperie aspires to take part in a healthy world and make their cuisine accessible to all with an eco-responsible conscience. This involves the use of gluten-free flour, but also charcuterie suitable for celiacs, non-dairy milk, lactose-free cheese and locally grown foods. The kiosk serves delicious sweet and savoury pancakes in a friendly and unpretentious atmosphere.
Park
This famous Westmount neighbourhood address, named after its owner, Chef Antonio Park, serves Japanese cuisine influenced by South America and Korea. Its menu strongly centred on seafood and raw fish makes it a place of choice for a rich gastronomic experience despite an intolerance to gluten.
Boris Bistro
Today, Boris Bistro is the first and only gluten-free certified restaurant. This Old Montreal restaurant offers a vast menu, 90% of which is gluten-free. This includes foie gras torchon, onion and Aronia jam, as well as grilled squid on green lentils and white kidney beans mousse as a starter; Tartiflette tatin black pudding, duck risotto with oyster mushrooms, sage and orange cream sauce as main courses as well as desserts and Quebec cheeses.
Arepera du Plateau
Arepera du Plateau serves Venezuelan and Colombian cuisine that is entirely gluten-free in the heart of the Mount Royal district. Go to this spacious, convivial and relaxed address mainly to taste the arepas sandwiches, traditional bread rolls made of corn. Order a plate of plantain or yucca chips with your sandwich.
Nini Meatball House
There's only one way to taste this Griffintown restaurant: in good company and in small bites. The Meatball House offers people with gluten allergies a great opportunity to share a meal. Many gluten-free options – as well as vegetarian and vegan – are on the menu. Be careful, however, if you have celiac disease, as there is a possibility of cross-contamination.
Venice MTL
Venice serves California-inspired cuisine in a colourful boho décor reminiscent of the surf culture of the west coast of the United States. The menu is just like the place: vibrant and radiant. The dishes are simple, tasty, generally healthy and often gluten-free. Visit one of their three locations to enjoy poke bowls, salads, tacos, soups and juices in a lively and relaxed atmosphere.
Jatoba
The very distinguished Jatoba offers Japanese cuisine sought after in a chic and splendid decor. This business district address serves beautiful plates with generous portions and a careful and meticulous presentation. The menu displays several gluten-free dishes made with rice, fish, seafood, meat and vegetables.
Enoteca Monza
Authentic Italian cuisine is one of the first cuisines to be (sadly) abandoned following a diagnosis of gluten intolerance and it is also one of the first to be missed. The era of deprivation is, however, a thing of the past since the friendly and very Italian Enoteca Monza has its own gluten-free menu available on request.
Candide
This very nice rustic restaurant in Little Burgundy serves a magnificent refined, ultra-local and fine cuisine. Superb fresh and sophisticated dishes are redesigned each month as the short menu changes to highlight seasonal products. The place is happy to adapt it according to the different dietary restrictions. All you have to do is notify them beforehand.
Maïs
Authentic tacos – on corn tortillas – are among the simple and comforting dishes par excellence for those who avoid gluten. Many places in Montreal offer tasty tacos at a good price. Mais, in the Mile End, is one of them and stands out for the quality of its cuisine and the originality of some of its garnishes.
Know, however, that you are not limited to the tempting menus of these 13 addresses. There are multiple restaurants where celiac or gluten-intolerant people can enjoy an excellent meal without any worries. Some are 100% gluten-free, others have menus with a minimal amount of wheat and its derivatives and, finally, many are happy to modify a dish to accommodate you.
---
Cover photo credit: jatoba/Instagram