Restaurants in Montreal where you can eat well for $10 or less
Are you convinced every restaurant in Montreal is expensive? You're totally wrong! Here are 10 super affordable restaurants where the food is delicious!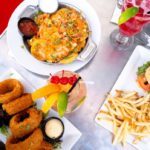 It is very pleasant to go to the restaurant, we are sure you agree. However, it is not pleasant to pay $50 or even $100 for a meal. If your weekly "going out" budget is limited, it usually means you don't have much money left to go on a terrace with friends or to go to a concert. Thankfully, it is possible to eat in restaurants in Montreal for a modest sum. In fact, there are many restaurants that offer a very appetizing menu for $10 or less. You don't believe us? Here are 10 culinary establishments to discover right away!
Advertisements
Cinko

This very trendy and affordable restaurant is located in the Latin Quarter in Montreal. You will find a colourful setting, vinyl placemats and a very varied menu offering items that all cost around $5! It is a perfect place to go when you feel like a snack or when you want to go out to a restaurant without spending a fortune. We suggest you try the "Cinko hot dog": an Italian sausage, mac and cheese and red cabbage with a Meaux mustard mayonnaise. Original and delicious!

1641, Saint-Denis

Advertisements

Entrepôt

L'Entrepôt, like Cinko, offers a large variety of dishes for as little as $5.95. The atmosphere is always festive in this Plateau restaurant, which is open from 11 a.m. to 3 a.m. so if you were planning on going there for a quiet meal, it might not be the perfect place for this!

1019, Mont-Royal E avenue

Advertisements
Omnivore
This affordable restaurant, that will soon have a second location in the Latin Quarter right in front of the St-Denis theatre, allows you to savour delicious dishes under $10. Why do we love it? For its vegetarian dishes and its nutritious and delectable sandwiches!
4351, Saint-Laurent boulevard
Advertisements
Restaurant Mâche

Mâche restaurant is a restaurant specialized in Quebec comfort food. You will find some poutine, hamburgers, beer but the best part is that all these items are not expensive. This welcoming place is really worth the trip!

1655, Saint-Denis street

L'Gros Luxe

L'Gros Luxe is well known with people who like to eat well but still want to keep things affordable. It's no wonder this restaurant has 8 locations in Quebec, 3 of which are in Montreal. You can eat a meal for $10 or less (for example, the famous poutine grilled cheese) all while sipping on a thirst quenching drink. It is also possible to have brunch in this restaurant. We bet L'Gros Luxe will become one of your favourite cheap eats if it's not already…

2472, Notre-Dame Ouest street

Pot Masson

Located on Masson street, this pleasant restaurant proposes a $5.90 menu in the morning for breakfast, for lunch and at night for dinner. You will adore the quesadillas as well as the fried Brie cheese. The cocktails, made by professional mixologists, are truly worth trying…

3141, Masson street

La Panthère verte

It is possible to fill your belly at La Panthère Verte. The "végéPanthère", for example, will come out to $8.45. You can also save money on the meal of the day, salads and coffee when you bring your own Tupperware containers. You'll save and you'll feel better for doing something good for the environment.

1753, Saint-Denis street

La Banquise

La Banquise is THE place for poutine amateurs! This place, located on Rachel street E, proposes a large variety of poutines for a small price. You can go for a classic choice like a regular sized "The Classic" for $7.75 or try "La Duleton" which has ground beef and onions for $9. In any case, you and your wallet will be happy.

994, Rachel E street
Vua
This restaurant in Montreal is very popular with university students. It's not very surprising; Vua, which has three branches near universities all around the city, proposes a menu of delicious and nutritious sandwiches for $4.25 like 7-inch bánh mì.
1579, Saint-Denis street
Wilensky's
If you've never been to Wilensky's, you absolutely need to try it! Located in the Mile End, this snack bar has been opened since 1932 and is still very popular. It's a real Montreal institution. You can have their house specialty, the "Wilensky Special" sandwich as well as hot dogs for $5.
34, Fairmount O
So, it is totally possible to go out in restaurants in Montreal without spending a fortune. You can easily feed yourself with $10 in your pocket.
---
Cover photo credit: Instagram @cinkomtl