10 slow cooker recipes for simple and divine meals
You don't have enough time to prepare good meals? These slow cooker recipes are absolutely divine and can be prepared in no time.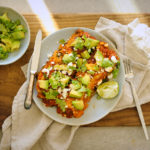 With our busy schedules, it is not uncommon to have to make choices about which activities we spend the most time on and unfortunately, it is often mealtimes that suffers. Healthy and gourmet meals carefully prepared at home are replaced by frozen meals or fast food we pick up on our way home. However, we tend to forget how much time a slow cooker can save us. Doing much of the work on its own, it can do much more than just cook a stew. Here are 10 slow cooker recipes for simple and divine meals, despite your busy schedule.
Advertisements
Thai chicken
In the mood for a perfectly spicy and incredibly tender Thai chicken recipe? Make it in your slow cooker! The coconut milk, the tamari and fish sauces, the lemongrass and green curry noodles, the coriander, the ginger powder and the red chilli flakes mixed together give an extremely savoury taste to the chicken. Once ready, you can eat it hot but The Fitchen also suggests to use the recipe in tacos or sandwiches.
Advertisements
Ginger-beef noodle soup
Cooking Asian dishes can be very easy, as Food & Wine proves. This ginger-beef noodle soup recipe will bring a nice Japanese touch to your menu all while staying simple to prepare. In 20 minutes, you'll have combined ingredients like beef chunks, beef broth, soya sauce, ginger, shiitake mushrooms and green onions to create a succulent soup with no real effort.
Advertisements
Chicken chili
This chicken chili recipe is relatively light and low-calorie, contrary to the classic beef or pork version. Like The Spruce Eats indicates, all you need to do is replace red meat by boneless chicken breasts, add a few ingredients, like onions, green peppers, garlic, beans, tomatoes and corn and to put everything in the slow cooker to get a delicious meal that practically makes itself.
Advertisements
Sweet potato enchiladas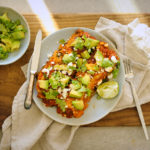 Food Network suggests giving a tex-mex touch to your meal thanks to these sweet potato enchiladas. The smokey and smooth sauce made with garlic, chili powder, cumin, oregano and tomatoes, amongst other ingredients, will bring incredible flavour to your dish. Really easy to make, these slow cooker enchiladas will surely become one of your favourite meals.
Yellow Dal
For a simple, comforting, pure and flavourful meal, this slow cooker yellow dal is the perfect meal. A typical meal in India and Nepal, this dish is, in fact, a lentil stew filled with many spices like turmeric, cumin, cayenne and coriander. Cooking this dal will fill your kitchen with an exquisite odour and will definitely please your taste buds. Find the complete recipe on peakyeatblog.com.
Beef stew
Beef stew is a very common meal that is usually cooked in the slow cooker but it is always possible to try new recipes and to revisit this classic like the Food Network suggests. This beer beef stew recipe, ideally containing Alberta beef, Guinness beer and Yukon Gold potatoes, will become your favourite winter meal.
Tortellini minestrone soup
Minestrone soup is always a classic that can be enjoyed anytime. Imagine a reimagined minestrone soup, with tortellini instead of normal pasta with beans, as well as a ton of veggies that are already present in the original version. It is a comforting and nourishing meal offered by Cafe Delites.
Scalloped potatoes and ham
Why deprive ourselves of a great scalloped potatoes and ham side dish when we already have something in the oven? This is the genius question asked by The Spruce Eats. It is, in fact, possible to cook this dish in your crockpot and the results are impressive. You'll only need a few ingredients, like an onion, cheddar cheese, ham, and mushroom or celery cream to create this delicious side dish. It is also possible to replace the half cup of water with evaporated milk for a richer dish.
Swedish meatballs
Swedish meatballs are simple and traditional but oh so tasty. Easy to cook, you'll only need a few minutes to cook this recipe provided by the Food Network, then you can relax and let the slow cooker do all the work. With its mix of pork and turkey as well as its other tasty ingredients, these meatballs are the ideal meal for a busy weeknight.
Lasagna
A low carb, gluten-free lasagna that can be prepared in your crockpot? Yes, it is possible! In this Well Plated recipe, the pasta is replaced by squash and eggplant. You'll also find an exquisite sauce made with tomatoes and cheese: cottage cheese, mozzarella or provolone and parmesan. No need to be a vegetarian to appreciate this no-pasta lasagna!
Eating well despite a busy schedule is possible and with the help of your slow cooker, it is even easy! Having a slow cooker does not mean you can only make the traditional and classic stew. This kitchen tool allows you to cook very varied dishes that will please everyone.
---
Cover photo: Food Network