10 speakeasy bars to discover across Canada
Going to a bar is always nice. But it is easy to get bored with our local neighbourhood bars. Here are 10 speakeasy bars to try in Canada.
Going to a restaurant, just like going to a bar, is an experience in itself. Whether you are alone or accompanied, you let yourself be completely immersed by the atmosphere of the place, the smells, the lighting, the décor as well as the music and the different drinks prepared and served with care. Of course, sometimes one can be tired of going to the same neighbourhood bars. If you want to try a new type of bar, why not try a hidden bar, commonly called a speakeasy? These establishments, which were popular during the Prohibition era, were at the time clandestine bars hidden from the authorities. Over the years, these bars have become popular all over the world. Here are 10 speakeasy bars to discover across Canada!
Advertisements
SoSo Food Club, Toronto
This place, which has just opened its doors in Toronto, will please you for several reasons. A great reason is that it is a speakeasy. Also, you can drink tasty alcoholic beverages in addition to dancing and enjoying the Chinese food offered by the establishment, and this, until 10 pm every evening. To access the SoSo Food Club, you must first locate the turquoise-painted shop window and then enter. This is where you will discover the music of the DJs, the pink and blue neon lights of the bar as well as the retro decor allowing you to enjoy your drink in good company. Who would have thought that behind this shop window hid such a great establishment?
1166 Dundas West, Toronto
Advertisements
Escobar, Toronto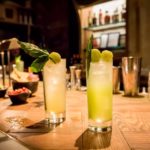 Did you eat dinner at Baro? Why don't you go upstairs to Escobar? To access it, you only have to take the elevator, provided, of course, you know the password… Once you are inside the bar, you can enjoy the cocktails or take your picture with the famous neon sign "Pablo loves you".
495 King St. West, Toronto
Advertisements
LoPan, Toronto
This bar is also located above a restaurant. This time you must locate the restaurant Dailo in order to find LoPan. It's worth a visit, as you can eat bites while drinking cocktails until 2 in the morning!
503 College St., Toronto
Advertisements
Toronto Temperance Society, Toronto
Although the Toronto Temperance Society is a private club for people who like to socialize while drinking, you can always discover the place by sending them a simple email for an invitation. Once you have indicated your presence at the Toronto Temperance Society, find the Sidecar restaurant, then the unnumbered black door. It's child's play, isn't it?
577 College St., Toronto
Union Local 613, Ottawa
Union Local 613 is a two-storey building. On one floor, you can have lunch or dinner and on the other floor, in the basement, is where the speakeasy is hidden. You can reach it through one of the restaurant libraries. Once you're comfortable in the underground style bar, treat yourself to a specialized cocktail like the Hippocratic Toast or Toucan Play That Game.
315 Somerset Street W., Ottawa
Henden, Montreal
The Henden is a hidden bar in Montreal's Griffintown neighbourhood. To get inside, you must go through an alley behind the Bird Bar restaurant. Your efforts will bear fruit because you will have access to a very chic speakeasy, whose decoration is inspired by the 1970s in Morocco. In addition to custom-made cocktails, you can of course drink wine or one of the twelve bottles of champagne offered by the house.
1800 rue Notre-Dame O, Montreal
Le Royal, Montreal
Do you know the very chic and trendy wine bar Le Rouge Gorge? if so, know that just below, lies Le Royal, a secret bar. To get there, you have to go down some narrow stairs. What will you find there? A hushed atmosphere, cocktails created by mixologists as well as a vast selection of sparkling wines.
1232 avenue Mont-Royal E, Montreal
Le Coldroom, Montreal
This hidden bar respects all the golden rules of a speakeasy. To find it, one must follow the ducks (on the Coldroom website, they give as indications the #followtheduck), the door is hidden and we are literally escorted to the Coldroom… Once in the bar, certain rules must be respected, such as this one: "We ask you to behave like mature adults. Otherwise, you are responsible for being accompanied by your babysitter."
Rue Saint Vincent, Montreal
The Narrow Lounge, Vancouver
To find this secret bar located in Vancouver, go to the corner of Main Street and 3rd Avenue and look for the red light… You will thus be able to access the intimate atmosphere of this bar as well as enjoy the delicious alcoholic beverages on the menu.
Main Street and 3rd Avenue, Vancouver
Prohibition, Vancouver
This bar is probably one of the most impressive speakeasies in Vancouver. Its doors, reminiscent of dungeons doors, will leave you speechless from the start! To enter, you must go to Howe Street. When you are inside this hidden bar at the Rosewood Hotel, be sure to spot the absinthe fountain and sit on one of the padded couches to sip your cocktail.
801 West Georgia St., Vancouver
Whether you're in Montreal, Toronto or Vancouver, Canada is full of hidden bars to discover, each more impressive than the next. Find out beforehand how to spot them, dress up and search for these speakeasies!
---
Cover photo credit: lebirdbar.com