10 terraces in Montreal to spend your whole summer outside!
What could be more pleasant than enjoying a good cocktail outside during the summer season? Here are the 10 most beautiful terraces in Montreal!
One of the great pleasures of summer is spending time outside in good company. We can simply go to the beach, the park or walk the streets of Montreal. It is also pleasant to sit on a terrace and enjoy a delicious cocktail. That's why we decided to find you the 10 most beautiful terraces in Montreal. Trade your balcony now for one of these charming terraces and make a toast to the summer with your friends!
Advertisements
Jatoba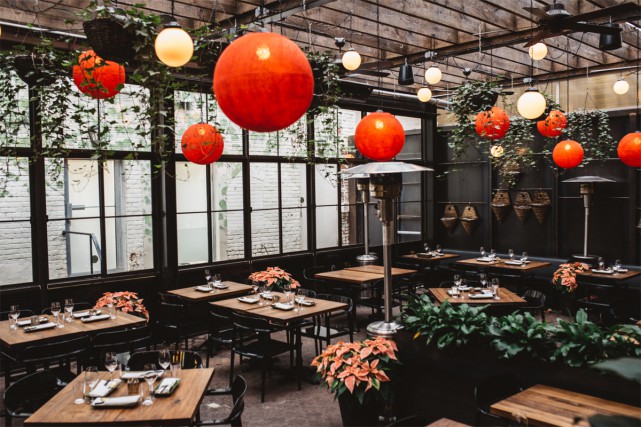 This restaurant, which is located in Montreal's business district, offers you a delicious Japanese menu concocted by chef Olivier Vigneault. You can also drink one of the sake, tequila or gin cocktails on the terrace. It looks like a sublime garden with all the plants and hanging flowers.
1184, Phillips Square
Advertisements
Jardins Gamelin
Les Jardins Gamelins are open to Montrealers for a fourth year already! It is the largest terrace in Montreal. You can drink your favourite beverage while enjoying one of the many activities they offer in this trendy place, such as free outdoor concerts and DJ sets.
Place Émilie-Gamelin
Advertisements
Boris Bistro
The splendid terrace of the Boris Bistro is not only perfect for enjoying a good glass of wine but also perfect for relaxing after a long day at the office. You will love the tranquillity that reigns in this place located on McGill Street in Old Montreal.
465, McGill Street
Advertisements
Les Enfants Terribles
This terrace is probably one of the most beautiful in Montreal with its breathtaking view of the whole city. However, you can't be afraid of heights to access it. In fact, it is located on the 44th floor of its building, nothing less. We love this terrace for the 360-degree view it offers us over Montreal, but also for its impressive list of cocktails and mocktails.
1, Place Ville Marie
Ristorante Beatrice
Ristorante Beatrice is located next to the Montreal Museum of Fine Arts. You can enjoy delicious Italian food on the Beatrice's intimate terrace. You will find a sumptuous decor composed of a slatted floor, wooden columns, green walls and chandeliers. In short, this place is perfect for sipping a glass of wine with a lover or friends!
1504, Sherbrooke Street O
Plan B
This cocktail bar, located on the Plateau Mont-Royal, is the ideal place if you are looking for a little quiet after an exhausting day spent in front of your computer screen or in the company of clients. Indeed, the small terrace of Plan B, just like the inside of this charming bar, is cosy and intimate. We feel at ease here, surrounded by its lush greenery.
327, Mont-Royal Avenue E
SAT FoodLab
You probably know the Society for Arts and Technology (SAT) for its rich cultural and innovative programming. Did you know that the SAT also had a restaurant and a terrace? Its food lab is on the third floor, the same floor as the Satosphere. You can eat on the terrace dishes prepared by chef Adrien Renaud or enjoy local cocktails and beers offered on the menu.
1201, St-Laurent Boulevard
Jardin Nelson
The Jardin Nelson terrace is located in Old Montreal. Once again it is possible to enjoy the à la carte menu or to drink sangria in the courtyard decorated with sublime floral arrangements.
407, Place Jacques-Cartier
Saint-Élisabeth
This bar, inspired by Irish pubs, is well known to students. Located near the Université du Québec à Montréal (UQAM), you can drink imported beers or kegs in the enchanting green setting of this extraordinary terrace. That's why we put it on our list of the most beautiful terraces in Montreal!
1412, Sainte Élisabeth Street
Vices & Versa
Vices & Versa has 40 handcrafted draft beer barrels and a friendly terrace. You can sit down and enjoy a microbrewery beer during the summer season with your friends. It is a quiet and welcoming place where lovers of good beers and local products like to meet.
6631, St-Laurent Boulevard
Montreal's terraces are beautiful and well worth the trip, no matter where you live. Take advantage before the summer season ends to drink with your loved ones!
---
Cover photo credit: https://voir.ca