Vegan bean soup recipes: plant protein in its most comforting form
Getting your plant protein in has never been as comforting as with these vegan bean soup recipes.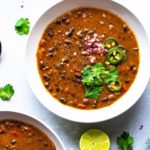 Winter like summer, there is nothing like a comforting bowl of hearty soup on a cozy night in. Tuscan or Tex Mex, spicy and warming or fresh and filled with summer vegetables, these meals rich in legumes are a good source of plant protein and a perfect dinner go-to all year round. Discover some of our favourite vegan bean soup recipes to bring diversity to the table in the form of flavourful healthy plant-based legume stews.
Advertisements
Roasted Lemon and Bean Soup
Advertisements
White Bean Soup with Kale and Wild Rice
Advertisements
Zuppa Toscana
Advertisements
Veggie-Loaded White Bean Soup
Simple Black Bean Soup with Quinoa and Brown Rice
Summer Corn Zucchini White Bean Soup
Vegetable and Bean Soup
Slow Cooker Tuscan Bean Soup
Black Bean Tortilla Soup
Vegan Minestrone Soup
Slow Cooker Spiced Bean Soup
Spicy Harissa Bean Soup
The Best Vegan Black Bean Soup
Corn Chowder with Harvest Ale and White Beans
Zucchini and Sweet Potato Zoodle Minestrone
Creamy White Bean Tomato Soup
Garlicky Lemony White Bean and Kale Soup
Black Bean Mushroom and Carrot Soup
Creamy, spicy, light, hearty, tangy, ready in a minute, white beans, black beans, etc. There is a vegan bean soup recipe to fit your taste, mood and needs at any given moment. And despite the diversity of our selection, these comforting concoctions are all very filling thanks to nutritious and satisfying properties of legumes.
---
Cover credit: @nyssas_kitchen | Instagram